Why backpack to Enchanted Valley?
I find it hard to give a good reason for a specific hike.
The joy of exploring a new place, experiencing new surroundings, and taking in the unique scenery.
And there's the physical challenge of a hike that you push through and come out victorious.
There is so much beauty and grandeur to experience on the way to Enchanted Valley, from massive old-growth trees to lush green mountainsides and waterfalls.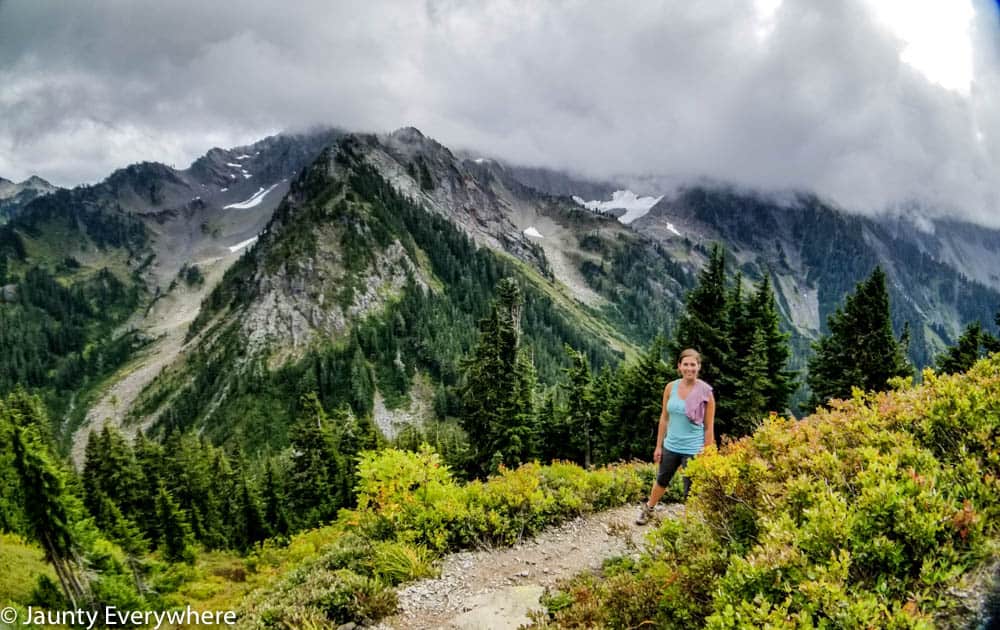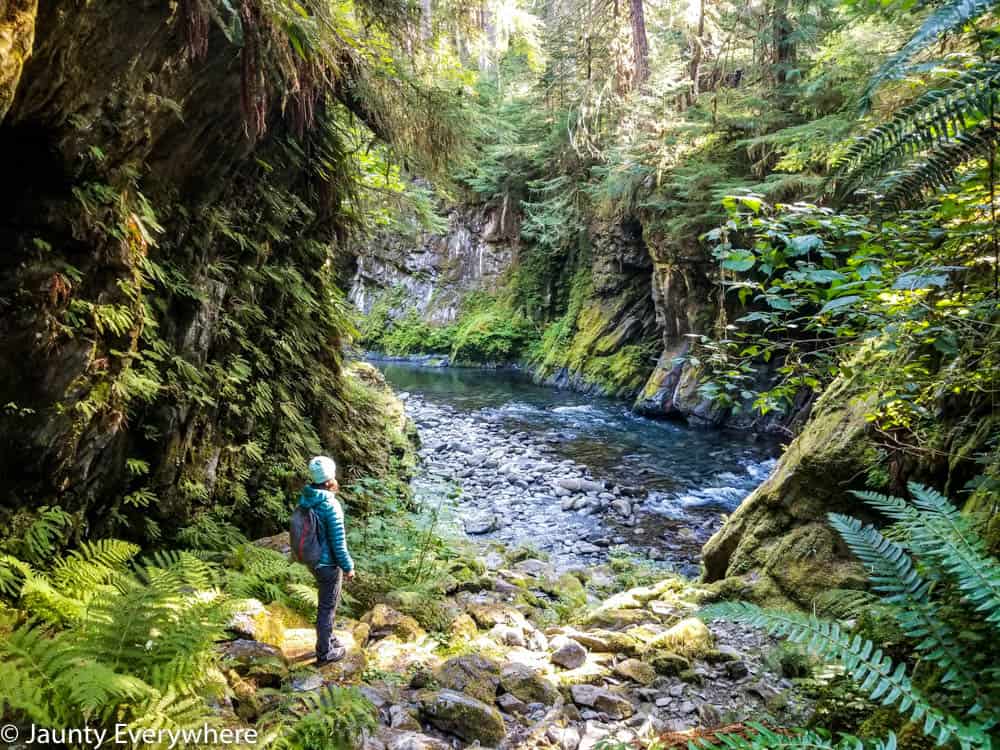 Enchanted Valley backpacking
The Enchanted Valley trail is in the Olympic National Park.
The Olympic Peninsula is home to Washington state's famed rainforest.
Massive evergreens covered in vibrant moss and lichens fill these woods.
The trail meanders along the Quinault River, gently climbing into Enchanted Valley, a meadow beside the river bed that looks right into the face of the Anderson Pass peaks.
A chalet, the remnant of past trekkers, sits in the Valley, signifying this beautiful spot's draw for the nature lover.
FAQs about backpacking Enchanted Valley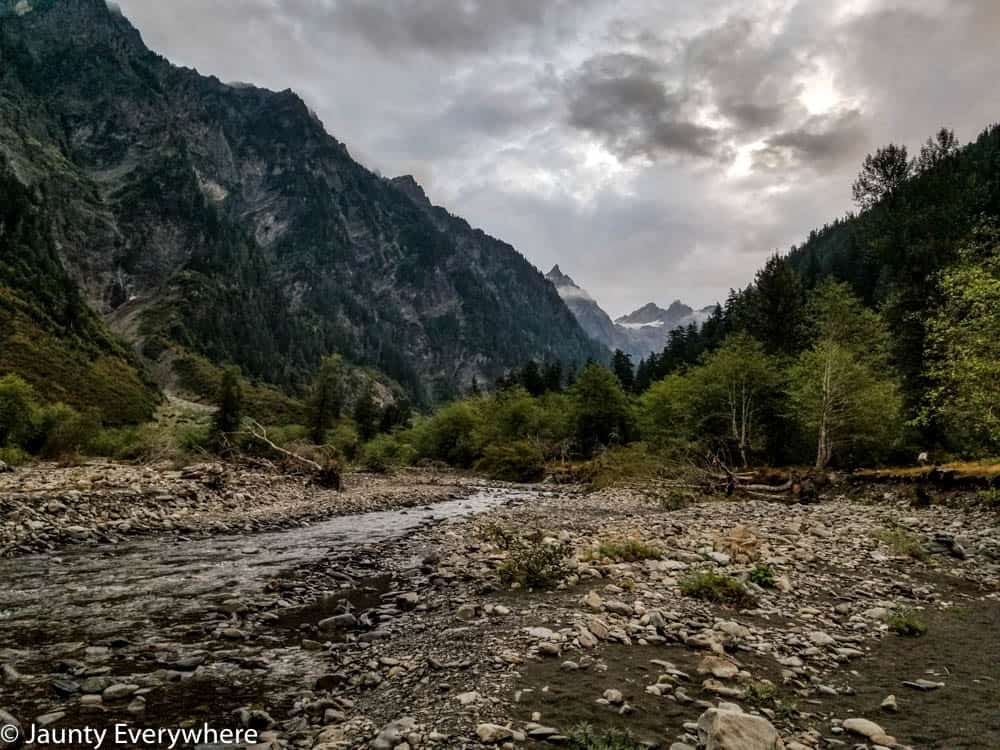 Where is Enchanted Valley?
The Enchanted Valley is in the Olympic National Park in Washington state.
Enchanted Valley trail map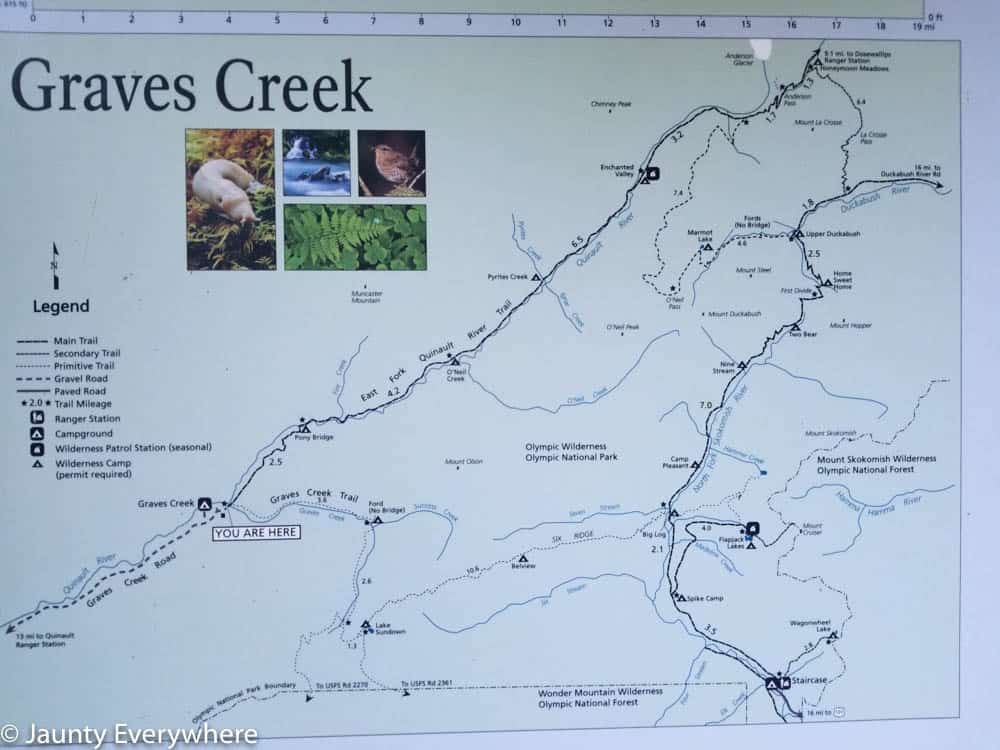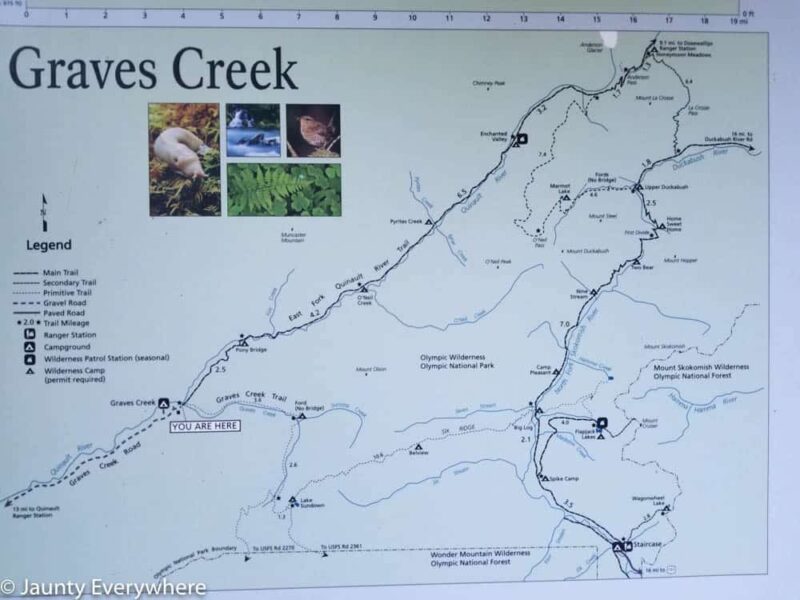 Official Trail Name
You will be hiking to Enchanted Valley; the trail's name is the East Fork Quinault River Trail.
How do you get to Enchanted Valley?
Graves Creek Trail is the trailhead you will start on. It quickly splits into the Enchanted Valley trail and Graves Creek Trail. Continue on the Enchanted Valley trail.
| | |
| --- | --- |
| Coming from… | Distance |
| North Cascades National Park | 271 miles |
| Portland, OR | 199 miles |
| Port Townsend, WA | 168 miles |
| Mt. Rainier National Park | 168 miles |
| Seattle, WA | 165 miles |
| Tacoma, WA | 134 miles |
| Olympia, WA | 105 miles |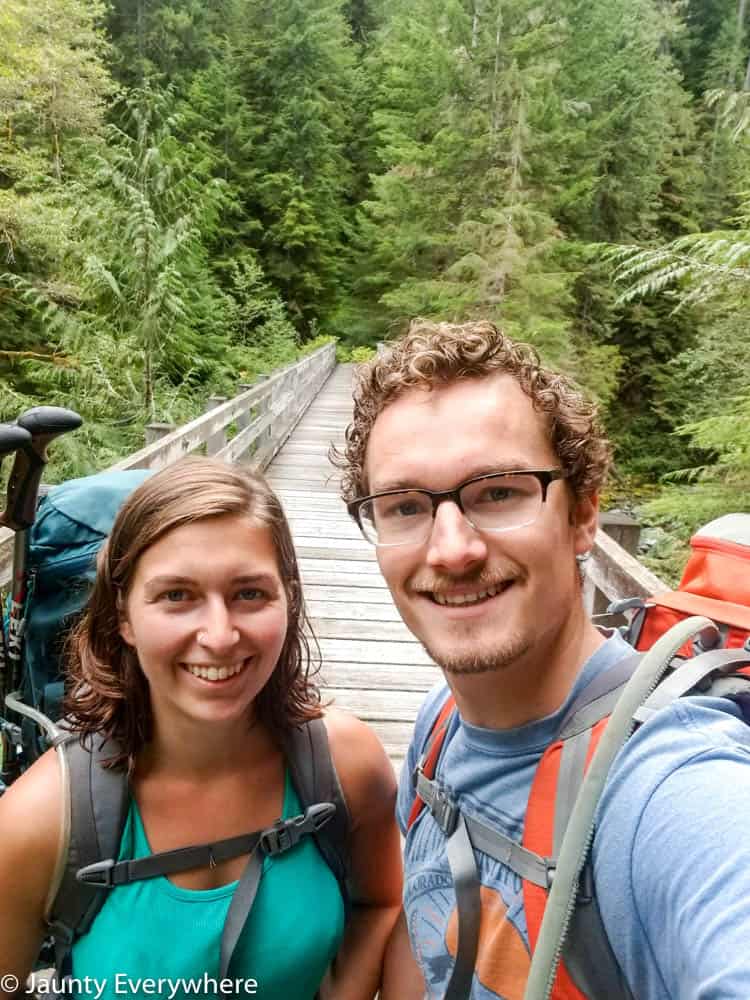 Do I need a permit to hike in the Olympic National Forest?
You will need a backcountry camping permit, which you can get at the Quinault Wilderness Information office.
The permit includes a secure bear can for storing your food.
The permit also covers parking at the trailhead.
The backcountry permit will attach to your backpack while hiking and your tent at your campsite.
The cost for the backcountry permit is $8 per night, per person, plus a $6 permit fee.
Choose the Olympic National Park permit that applies to your trip. If you plan ahead of time and make reservations online, you'll eliminate waiting in line at the ranger station. Use Recreation.gov to complete your permit process.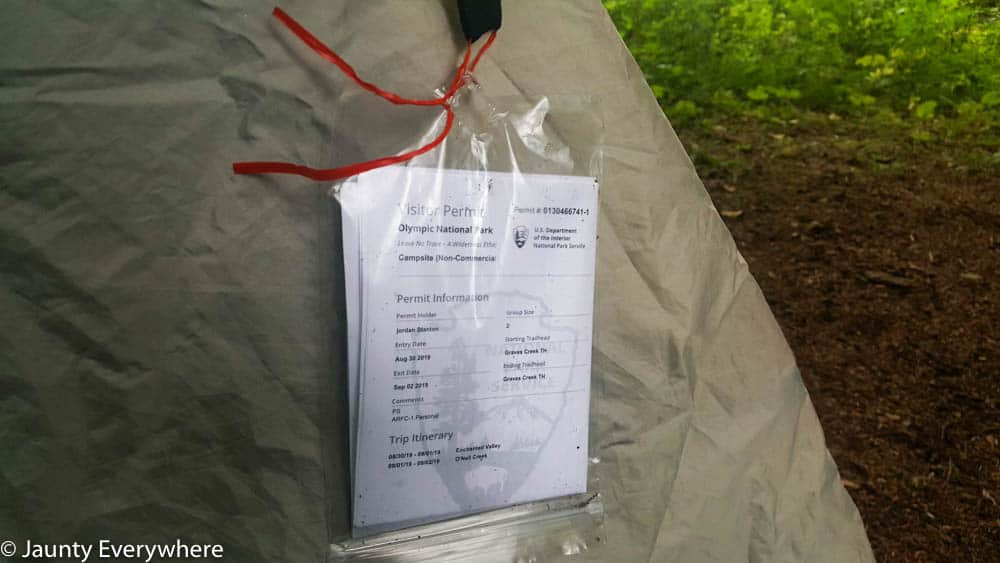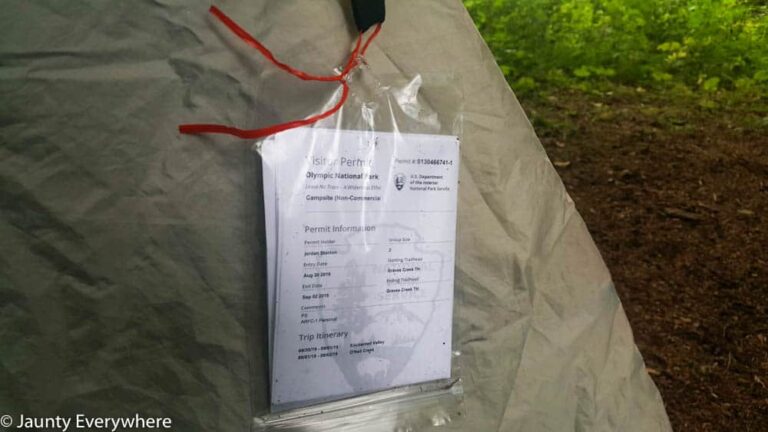 How long is the Enchanted Valley trail?
The Enchanted Valley trail is 38.5 miles (including a day hike to Anderson Pass).
Length (mileage breakdown)
| | |
| --- | --- |
| Goal | Miles from start |
| Graves Creek Trailhead | Start |
| Pony Bridge | 2.5 miles |
| Fire Creek | 3 miles |
| O'Neil Creek | 6.5 miles |
| Enchanted Valley | 13.5 miles |
| Anderson Pass | 18.4 miles |
| Anderson Glacier Overlook | 19.3 miles |
| Dosewallips Trailhead | 34.3 miles |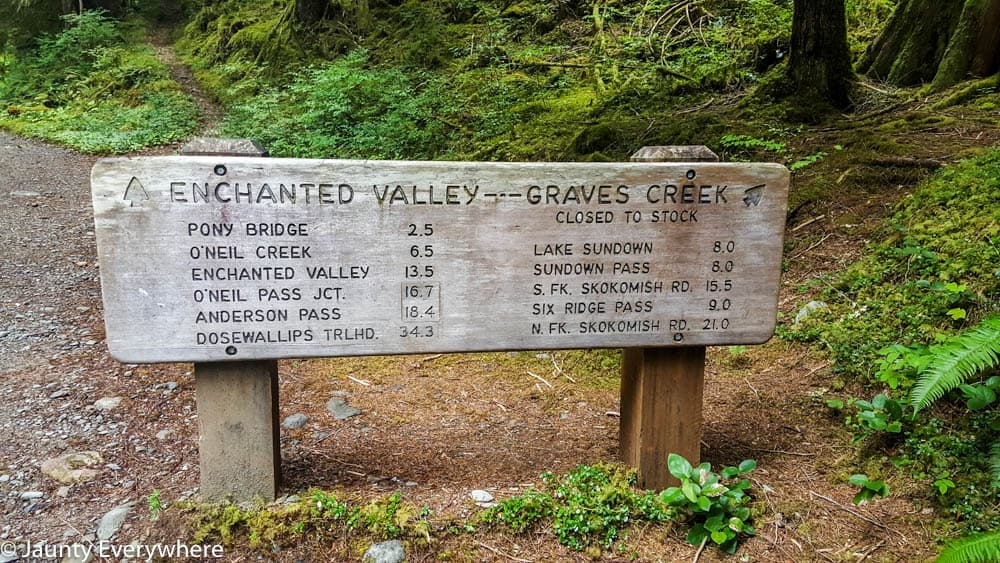 How long does it take to backpack the Enchanted Valley trail?
We made this trip in four days and three nights. We front-loaded our days, so we did most of the miles the first three days and then had a short hike out the last morning. (See our detailed 4-Day itinerary below)
We traveled home on the fourth (and last day of our trip), so it worked well to make the previous day the shortest hiking day.
Covering a lot of distance in one day makes for sore feet and legs. Consider how much pounding your feet and knees can take when hiking. Plan your itinerary according to your body's capabilities.
What is the elevation gain on the Enchanted Valley trail?
From the parking lot to Enchanted Valley is approximately a 1,385 feet elevation gain.
From Enchanted Valley to Anderson Pass, another 2,500 feet of elevation gain with another 1,000 feet increase in the last 0.9 miles from Anderson Pass to the Anderson Glacier overlook.
Overall the elevation of this hike is moderate until you start climbing to Anderson Glacier overlook.

Are there water crossings on the Enchanted Valley trail?
All water crossings to Enchanted Valley have bridges to cross.
Some small streams cross the trail to Anderson Pass, but these are easy to jump.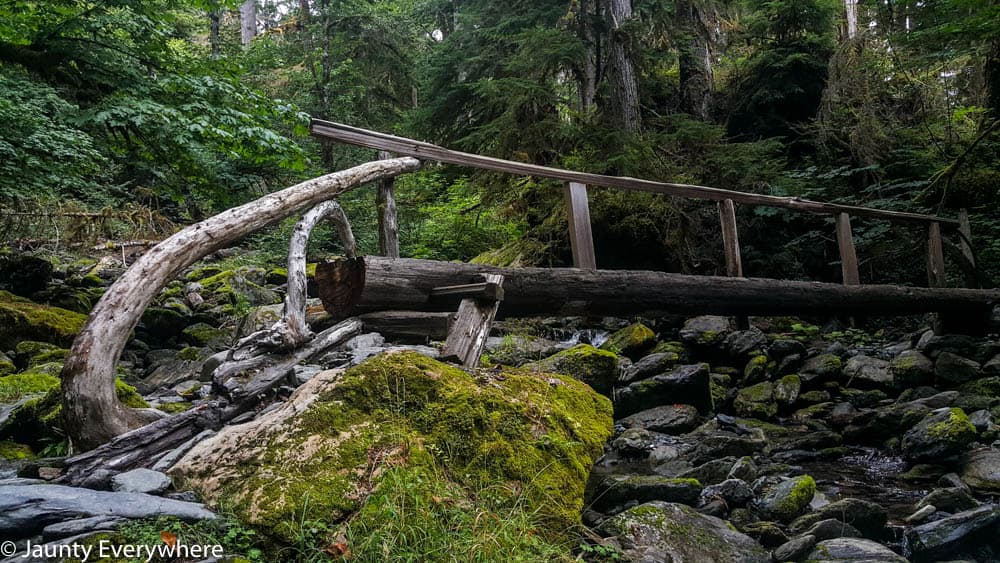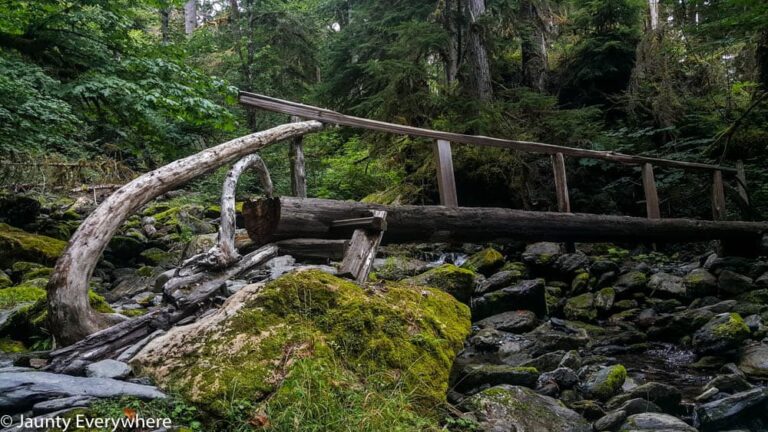 What is the weather like on the Enchanted Valley trail?
Expect rain. It doesn't rain every day of the year on the Olympic Peninsula, but you should be prepared for rain year-round. Enchanted Valley is part of the Olympic Rainforest.
Temperatures are moderate; it doesn't get too hot or too cold. The average high in the summer is 71F, and the winter low is 42F. Nighttime temperatures range from 35F – 55F, so prepare to stay warm.
What is the best season to hike the Enchanted Valley trail?
The best time of year to hike Enchanted Valley is May through September. Check the National Park Service page for trail updates and conditions.
Are there bears on the Enchanted Valley trail?
There are bears in Olympic National Park, and bear cans are required on the Enchanted Valley trail. Bear cans come with a permit at the Quinault Wilderness Information Center.
What water sources are available on the Enchanted Valley trail?
Fill your water before hitting the trail.
You will have access to the Quinault River along most of the trail. Some stretches have easy access, while in other sections, you can only see it deep in the gorge below.
The river is easily accessible for water purifying once you reach Enchanted Valley.
There are also many streams up to Anderson Pass to refill your water if you need it. Don't wait till you reach the top – the lake water doesn't taste as fresh as the stream water.
Of course, always treat your drinking water properly if you're taking it from a natural source.
Are there bathrooms on the Enchanted Valley trail?
An outhouse is available at the Graves Creek trailhead parking lot (the starting point). There are two outhouses in Enchanted Valley.
Bring your toilet paper.
The outhouses in the Valley are not stocked with toilet paper. They also aren't strictly private.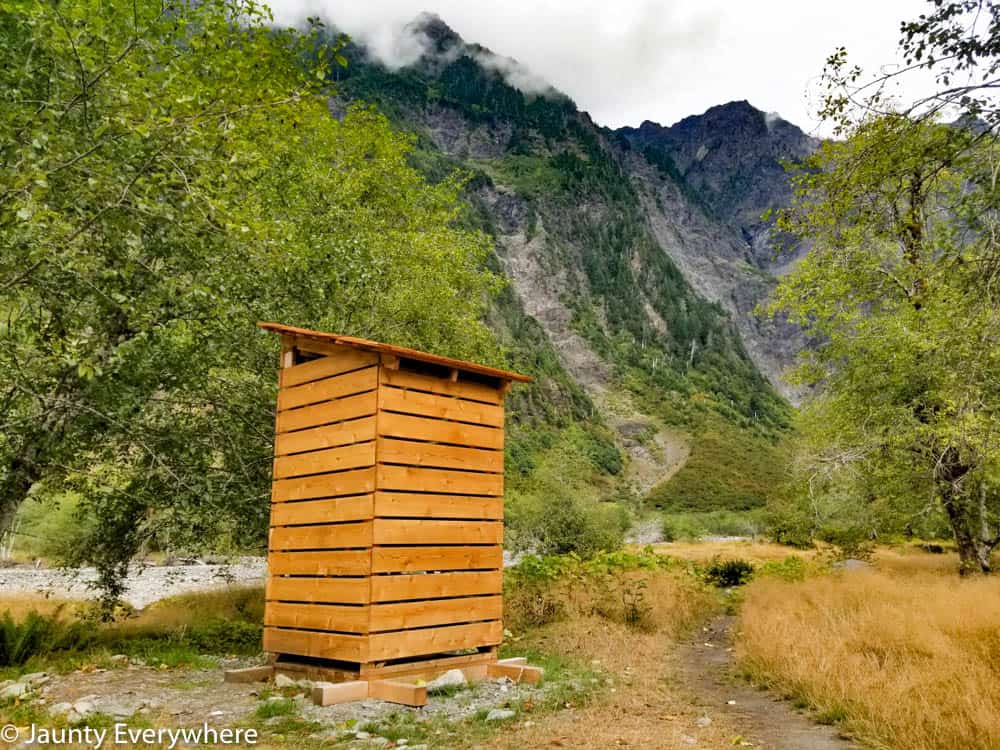 Where can I park to backpack the Enchanted Valley trail?
Park at the Graves Creek Trailhead. This is a popular spot, so arrive early. Any parking fees come with your permit.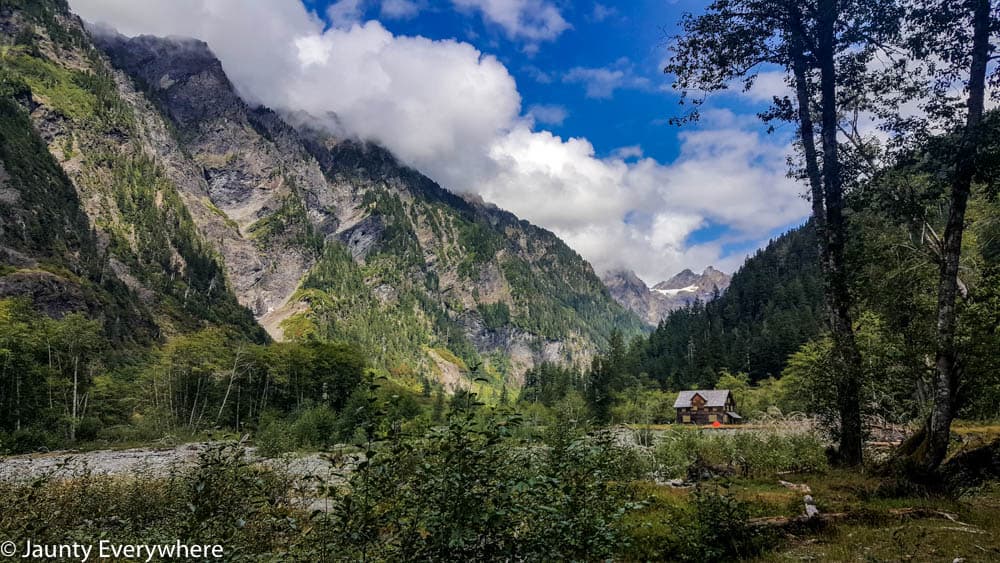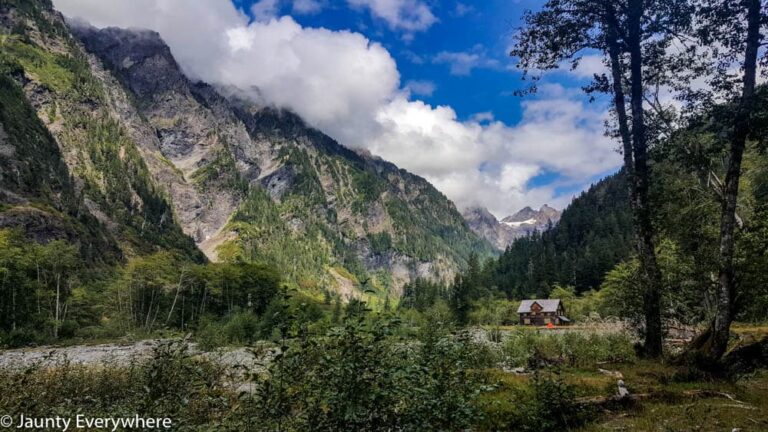 4-Day Itinerary – Backpacking the Enchanted Valley trail
Day 1: Hike into Enchanted Valley – 13.5 miles
Arrived at Quinault Visitor Information Center at opening time (8 am)
Picked up a backcountry permit
Arrived at the trailhead and finished loading our packs
Began hiking at 10:30 am
Took a lunch break on the trail
Arrived in Enchanted Valley at 6 pm
Made base camp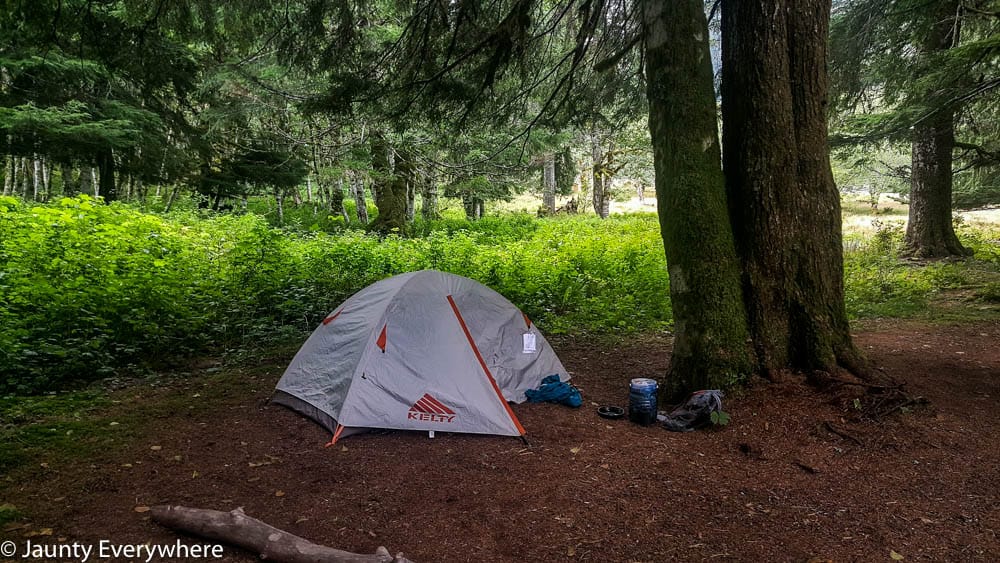 Day 2: Day hike to Anderson Glacier – approx. 12 miles
Started towards Anderson Glacier at 10:30 am
Lunch break on the trail
Arrived at Anderson Glacier at 3 pm
Spent time enjoying the views
Arrived back at Enchanted Valley at 7:30 pm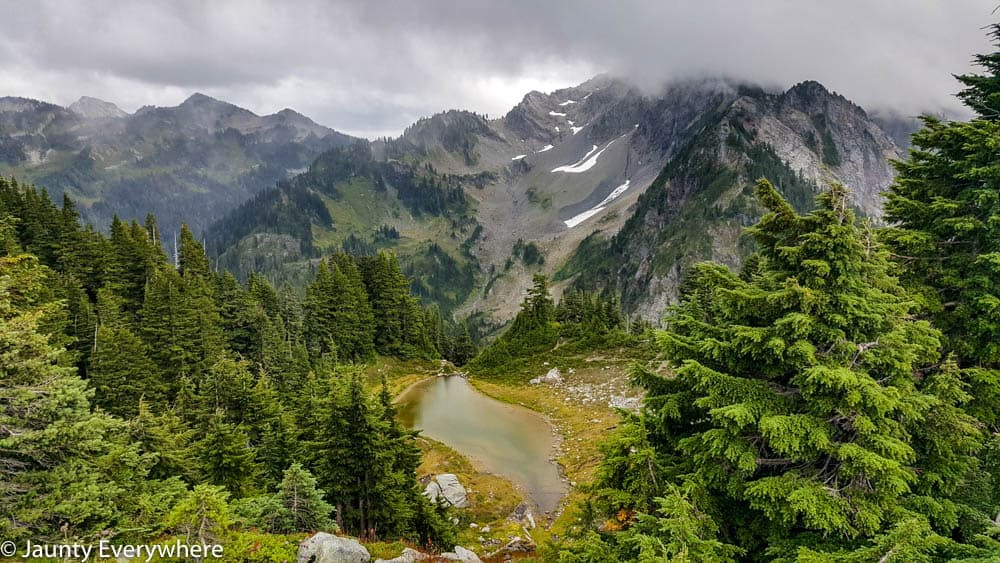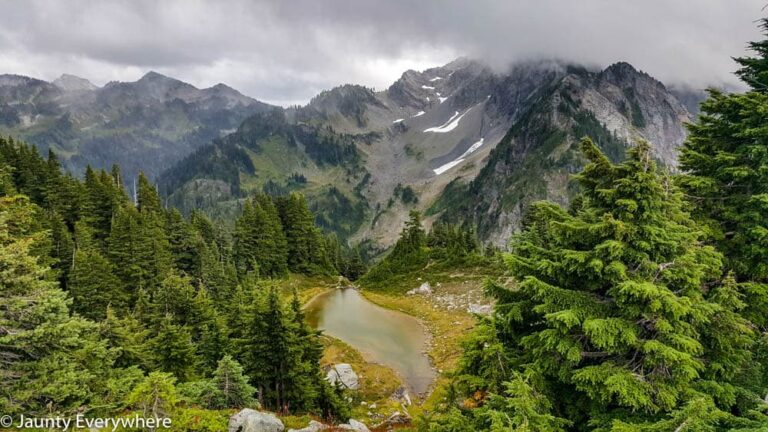 Day 3: Hiked most of the way out – 11 miles
Spent the morning enjoying the Valley
Started hiking out at 1 pm
Arrived at Pony Bridge around 5 pm
Camped near Pony Bridge for the night (more on this later)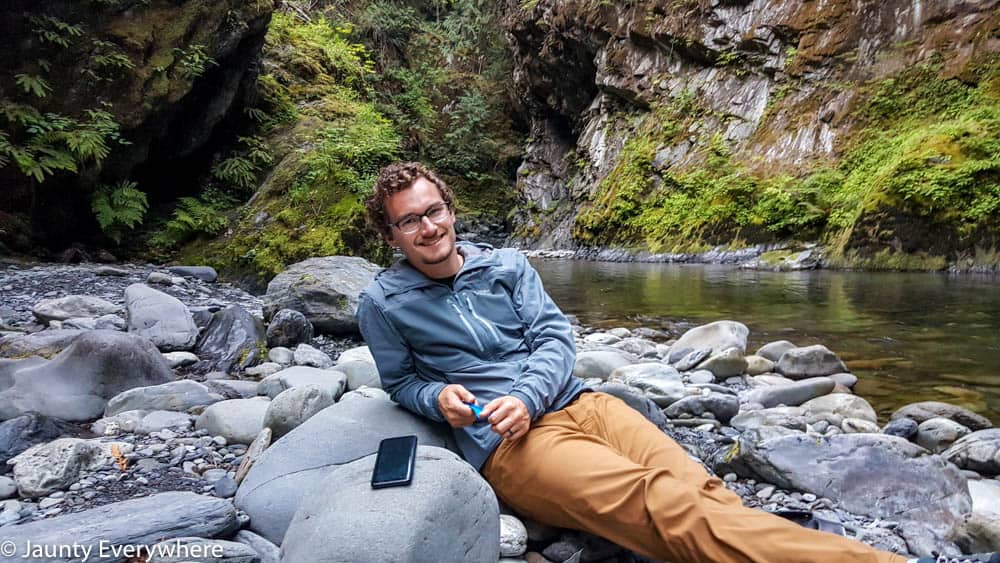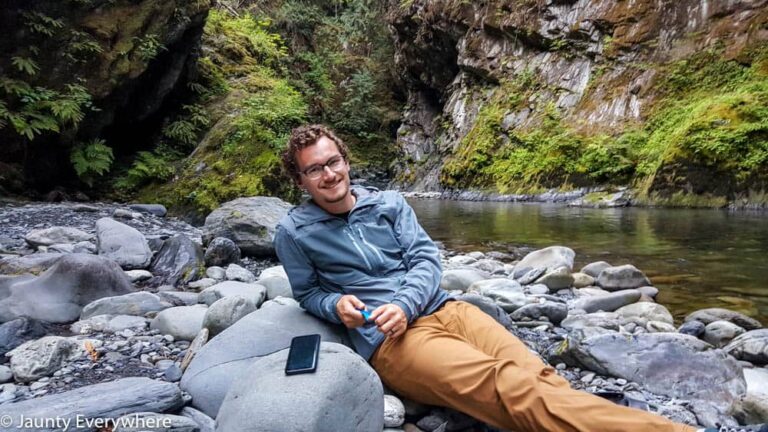 Day 4: Hiked out – 2.5 miles
Easy 2.5-mile hike back to the parking lot
Stopped for a trail lunch on the way
Traveled home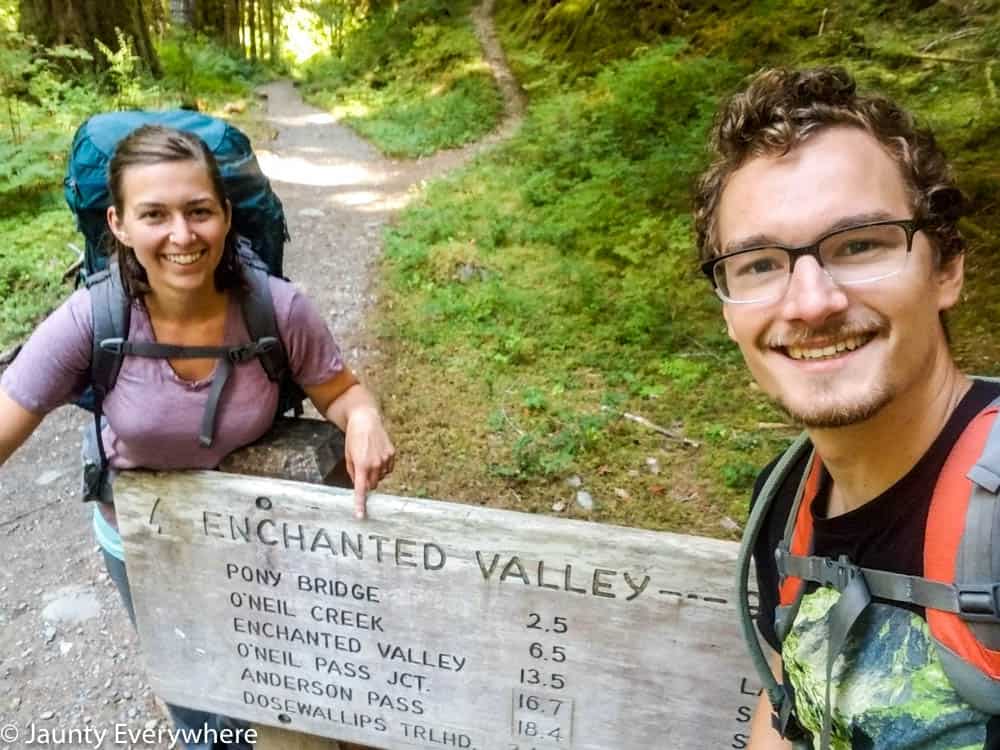 Activities to do on the Enchanted Valley trail
This trail covers a lot of mileage, so you will be hiking and enjoying the trail most of the time. That doesn't mean you can't stop and smell the roses along the way.
(Brittany, there are no roses, don't try to trick me into backpacking. Love Mom)
Here are suggestions to fully enjoy the trail:
Take photos
One of our favorite ways to save some great memories.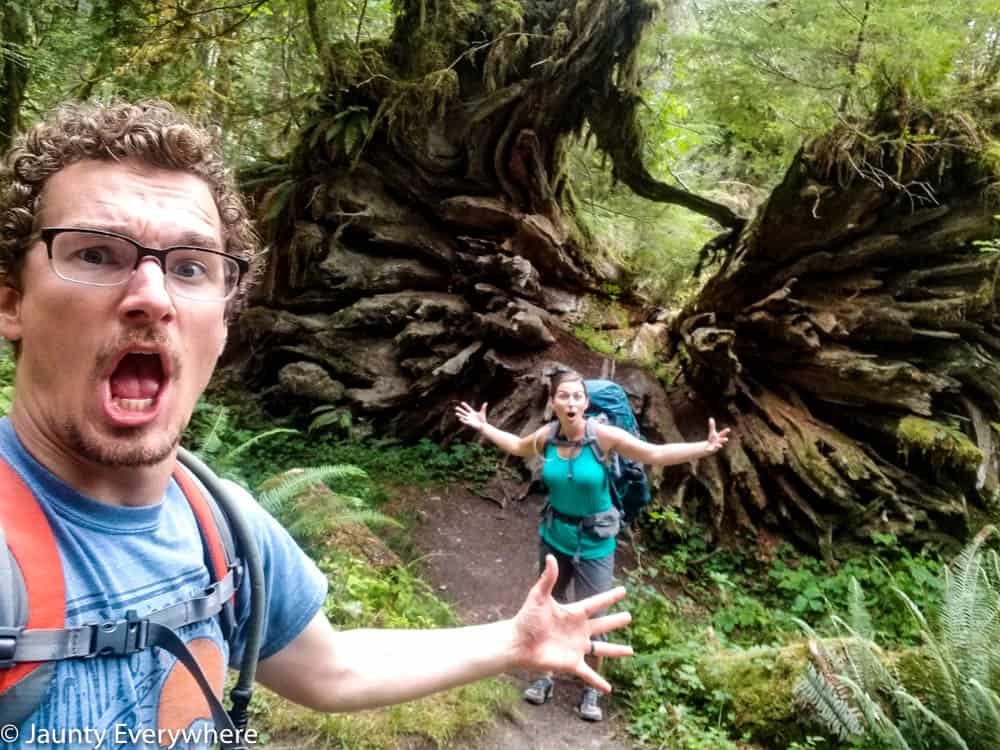 Breathing exercises
I recently started experimenting with different breathing patterns when hiking. Typically, I have been a mouth breather when hiking because I want to get enough air. I'm out of breath a lot.
But I have discovered that when I breathe in my nose and out my mouth, I enjoy the incredible woody smells of the forest as I hike. Maybe this seems silly to you, but it's a mind game you can play to pass the time and more thoroughly enjoy the environment.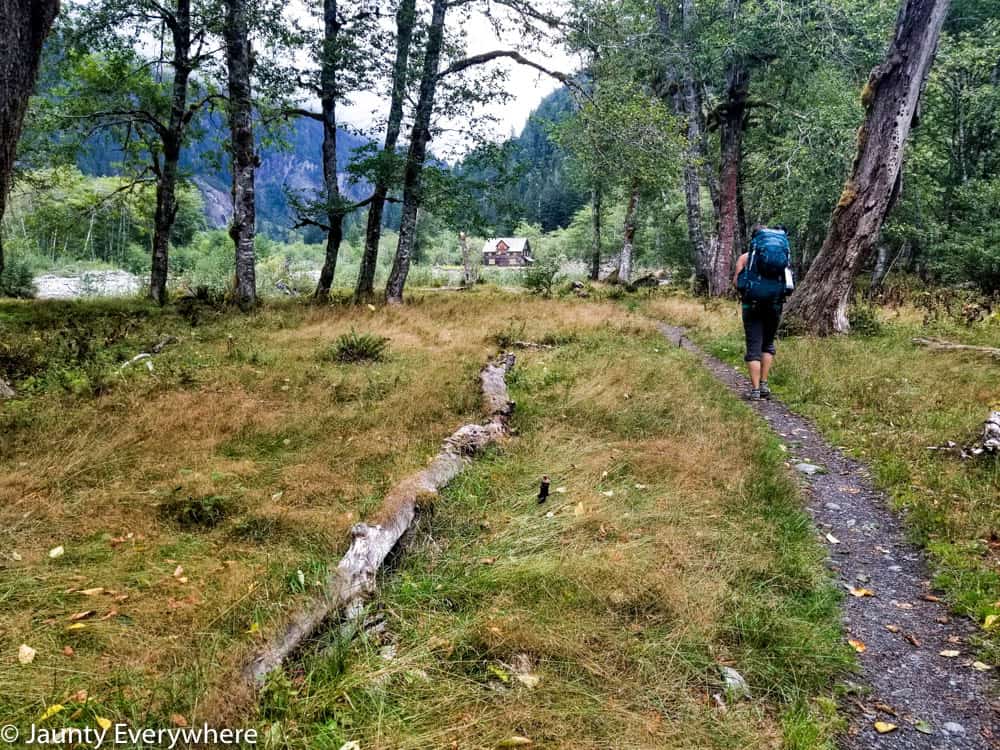 Soak your feet
There are many spots where the trail crosses a bridge over a river or creek. Some of these crossings allow excellent water edge access to soak your feet and relax for a few minutes.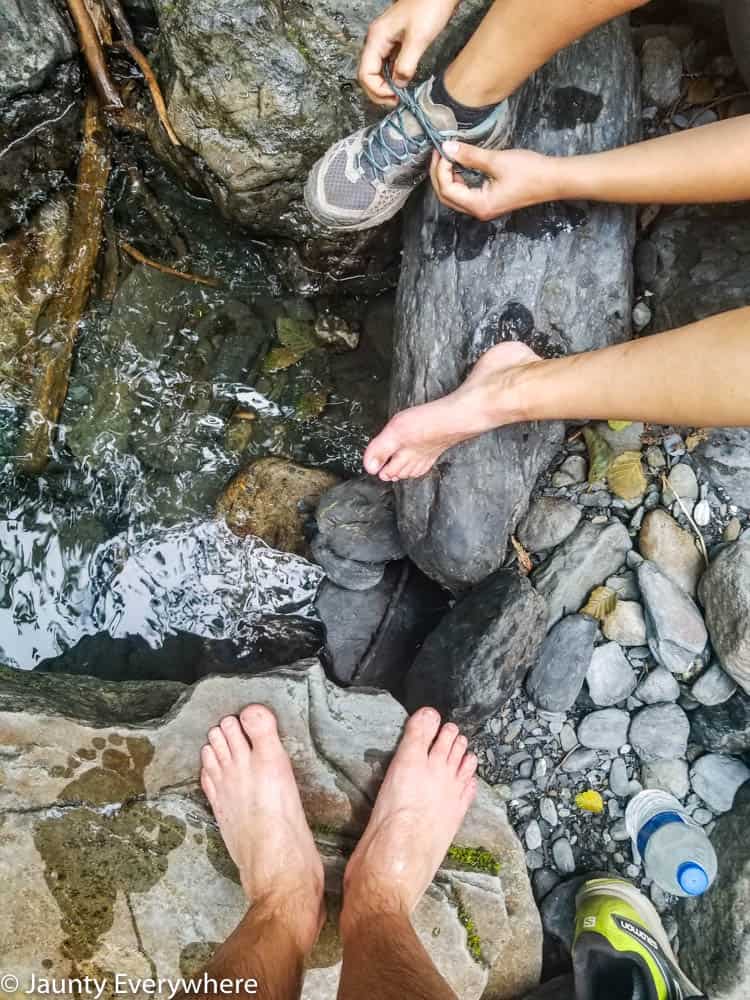 Keep an eye out for wildlife
This area is known for bear and elk sightings. While we didn't see any large mammals on our visit, it is standard.
We saw an owl in a tree as it stared back at us.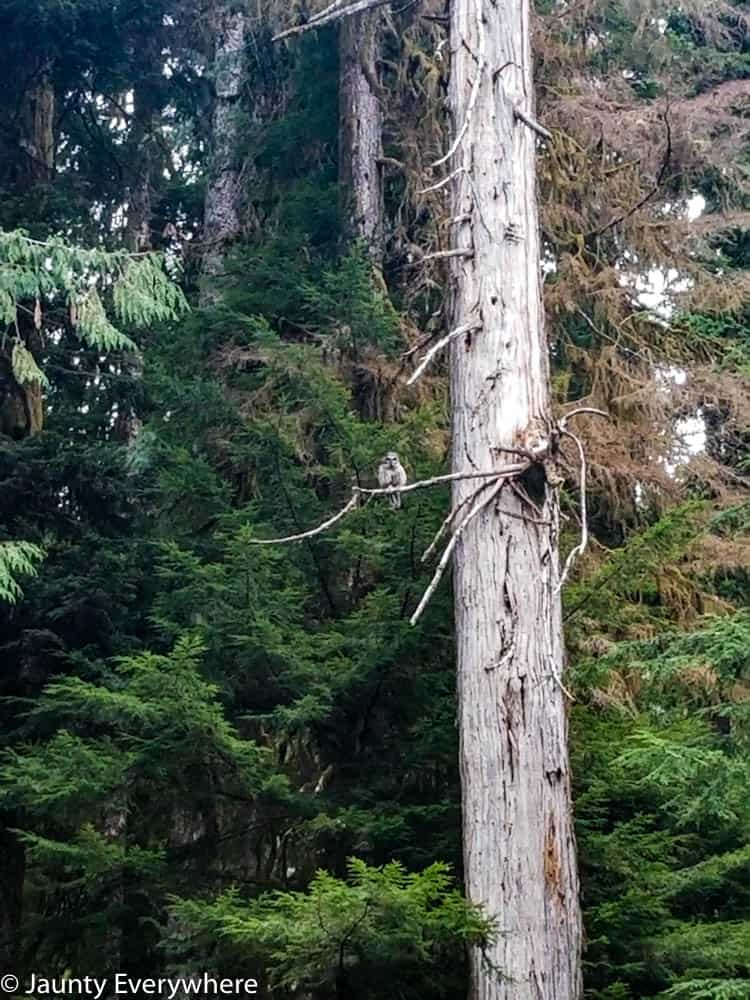 Chat with your hiking companion
Hiking frees up hours of potential conversation time. Jordan and I had many conversations along the trail during our four-day trip.
Or maybe you like to hike in silence and enjoy the sounds of the woods. That's great too. Over four days, there's time for both.
Prepare to backpack the Enchanted Valley trail
Bear can
As mentioned, you must have a bear can in the Quinault River area. Store all your food and other scented items like toothpaste, toothbrush, and hand sanitizer.
A bear can is a lidded container that bears cannot open or bite through. This protects your food and safeguards your camp from interested bears looking for something to eat.
Store all items in the bear can once you reach camp and place them about 50-100ft from any occupied camp spot.
When you check in at the Quinault Wilderness Information Center, a bear can is included with your permit.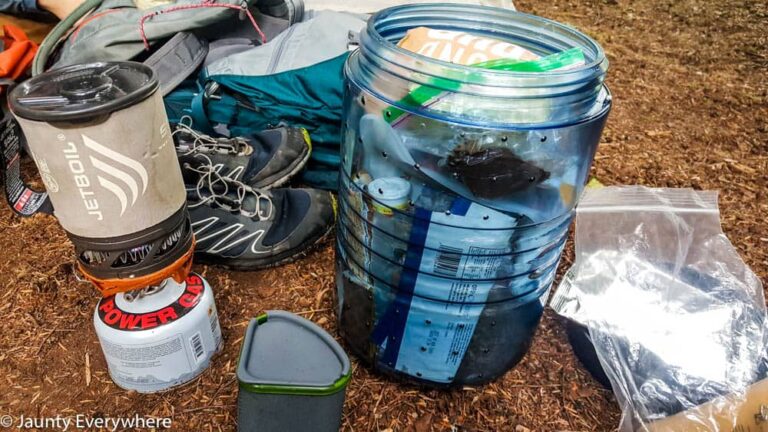 Rain gear
There is a good chance there will be rain on your trip, considering this is a rainforest.
Bring a rain jacket, waterproof shoes/boots, and a rain cover for your backpack.
A pair of rain pants or quick-dry pants are also great items to pack.
Sleeping bags and pads
This trip was our first using our Big Agnes double sleeping bag and double sleeping mat.
Typically, we expect to get a partial night's sleep on a backpacking trip due to sleeping on the ground and being colder than comfortable.
Sleeping in our double bag on a double mat changed backpacking for me. While the double bag and mat are slightly heavier than personal bags and mats, the excellent night's rest was worth the added weight.
We were so warm we slept partially out of the bag most of the night, which is unheard of for me, even on summer nights. Also, the mat was a fantastic way to lay down and relax our tired legs after hours of hiking.
Below are links to the sleeping bag and sleeping mat that we use. We have two twin mats that we put together to fit the double sleeping bag.
Heat source
Another piece of gear that we find invaluable is our Jetboil stove.
The Jetboil is a workhorse. We start every day with a cup of coffee for Jordan and tea for me. Then we make hot water to add to whatever our breakfast is if we need it. That's one pot of hot water.
A total of two pots of hot water – breakfast and coffee made within twenty minutes.
What to eat on your Enchanted Valley backpack trip
Here is the menu of food we packed:
Enchanted Valley menu day 1:
Lunch – Pork rinds, cheddar cheese cubes, canned sardines
Dinner – Creamy Chicken Noodles (the recipe is from The Yummy Life)
Snack – Nuun tablets for water, homemade trail mix
Dessert – Backpackers Pantry Apple Crumble
Enchanted Valley menu day 2:
Breakfast – Coffee in our Aeropress, Bulletproof coffee, oatmeal
Lunch – Nut Thins, parmesan cheese, dry salami
Snack – Larabars, leftover lunch
Dinner – Trail mix, dried mangos, Epic meat bars
Enchanted Valley menu day 3:
Breakfast – Coffee in our Aeropress, dried fruit, cheese, and meat
Lunch – Nut butter, meat stick, dried fruit
Dinner – Curry chicken and rice, beef stew
Dessert – Backpacking Pantry Dark Chocolate Cheesecake (this was delicious and made with cold water, so not much prep).
Enchanted Valley menu day 4:
Breakfast- Coffee in our Aeropress, dried fruit, trail mix
Snack- Epic meat bar
Water
There is water along most of the trail and small creeks to pump from on the way to Anderson Pass.
Our water purifying pump broke on the evening of the second day. We didn't have a backup purification system with us.
Hence, we ended up using our Jetboil to boil water for the 1-minute purifying time and then cooking with it or cooling it in the river before drinking. We did this for the remainder of the trip.
I highly suggest having a LifeStraw as an emergency backup for drinking water. The LifeStraw is a personal use purifier that works by sticking one end in the water source and drinking from the other end like a straw. You'd still need to boil water to cook with, which means less time purifying water for drinking.
Where to camp on the Enchanted Valley trail
There are camp spots dotted along the trail to Enchanted Valley.
Pony Bridge, 2.5 miles
This is where we camped on the last night of our trip. We decided to stop here to make our last day a short hike because we noticed it on our way in and thought it would be a fantastic spot.
There is a place on the side of the trail just after going over the bridge (walking towards Enchanted Valley) where you can climb down to the river bank. There's about a 20ft drop with a slightly inclined wall you can scramble down. You'll be fine if you have any rock climbing or bouldering experience. Try this at your discretion.
We set up our tent beside the trail and walked a short distance to the bridge and down to the river bank. The river runs through a deep gorge here, and the walls rise steeply around you as you climb down to the bank. If you haven't felt like you were in a rainforest yet, you will after this. This was a stunning spot to make dinner and, the following morning, breakfast.
Note: Proceed with caution. The bank was reasonably wide when we visited because the river was low due to a dry summer. It may be too high in other parts of the year.
Fire Creek, 3 miles
Just past Pony Bridge is Fire Creek. There are a few campsites along the river here as well.
O'Neil Creek, 6.5 miles
A few campsites are available here.
Enchanted Valley, 13.5 miles
The Valley has many camping spots along the river, meadow, and tree line.
This is a busy spot, especially on weekends, so arrive early to find a location you like.
Farthest section of Enchanted Valley, approx. 14 miles
There are more camp spots further down the trail. From Enchanted Valley, if you continue on the trail towards Anderson Pass, a few places are tucked up against the river or amongst the thickening trees.
Anderson Pass, approx. 18.4 miles
We did Anderson Pass as a day hike, leaving our camp in Enchanted Valley; if you want to hike to Anderson Pass to camp, there are a few small camp spots near the top.

Our photo gallery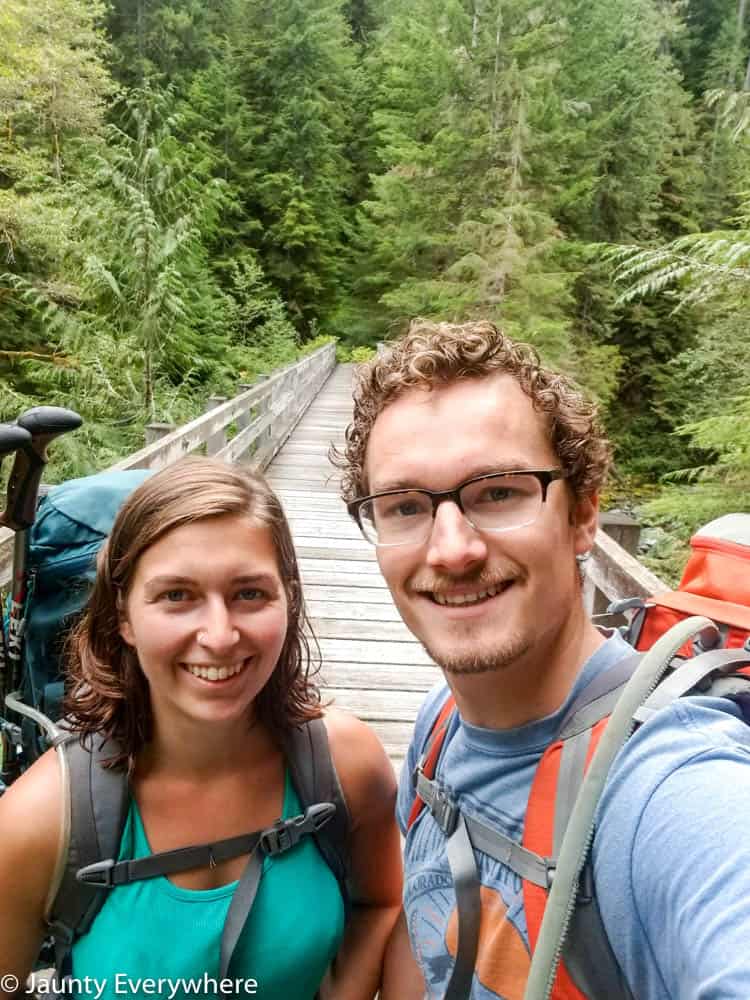 I hope you get a chance to visit Enchanted Valley and explore the area. It's a beautiful spot.
If you hike to Enchanted Valley, share a photo with us. Tag us on Instagram @jauntyeverywhere or use #jauntyeveryday.
More information
Helpful links
How to Build your own First Aid Kit
What is the Pacific Northwest {for travelers}
Other hikes in the Pacific Northwest
Latourell Falls Loop Trail, Columbia River Gorge, OR
Dog Mountain Trail, Columbia River Gorge Area, WA
Elk Mountain and Kings Mountain Loop Trail
Silver Star Mountain Trail, Skamania County, Washington
Tillamook Head Traverse Trail, Oregon
Cottage Grove Covered Bridge Trail – Oregon