Why head to Willapa Hills Trail?
First, this is an excellent trail for fitness activities and leisurely bike rides.
It is also a fabulous choice for backpackers, long walks, training runs, and horseback riding.
What it's not good for (regardless of what the trail listings say) is roller-blading.
We like this ride to kick-off spring. From the Chehalis entrance, it's a nice 10-mile round trip of pavement. Perfect for families or winter tender rear-ends.
This is a gem of a trail, right off the freeway. Just a few steps in, and you will be engulfed in the cool green countryside.
The first time we used the trail, we were on reconnaissance to see if we could ride all the way to South Bend (56 miles), spend the night, and ride back.
Nope, not on cruiser bikes anyway. Wherever the trail crosses a highway, there's a section of loose gravel. This is a safety precaution to warn trail users to watch for traffic.
On a bike, even these short sections were so uncomfortable to ride that we quickly abandoned the idea of biking 45-miles on the unpaved trail sections.
Some people say fat-tire and mountain bikes are suitable for the unpaved portion.
Things to see (aka. photo ops)
???? Beautiful trestle bridges
???? Mountain views
???? Farms, farmland, farm animals
???? Fall foliage
???? Chehalis and Willapa Rivers
???? Plenty of Western Washington green and wildflowers
???? Wildlife
Watch this vlog from Illuminations from the Attic to get a feel for the countryside:
FAQ's about Willapa Hills Trail
Willapa is a multi-use rail trail with easy access from Interstate 5 (I-5). The trail takes you through the countryside and forest.
Related Post: How to Find Family-Friendly Trails (our post on America's Rail-Trail system).
Where is Willapa Hills Trail?
Willapa Hills trail is located in Southwest Washington, Lewis County.
The trail starts in Chehalis, WA, and runs to South Bend, WA.
| | |
| --- | --- |
| Destination: | Distance: |
| South Bend, WA | 28 miles (by car) |
| Centralia, WA | 32 miles |
| Longview, WA | 55 miles |
| Olympia, WA | 56 miles |
| Mt St Helens | 95 miles |
| Mt Rainier | 98 miles |
| Portland, OR | 102 miles |
| Seattle, WA | 115 miles |
Distance from Willapa Hills Trailhead in Chehalis, WA (by car)

How long is Willapa Hills Trail?
The Willapa Hills Trail is 56.2 miles (90.5 km) one-way.
The trail is an out and back trail.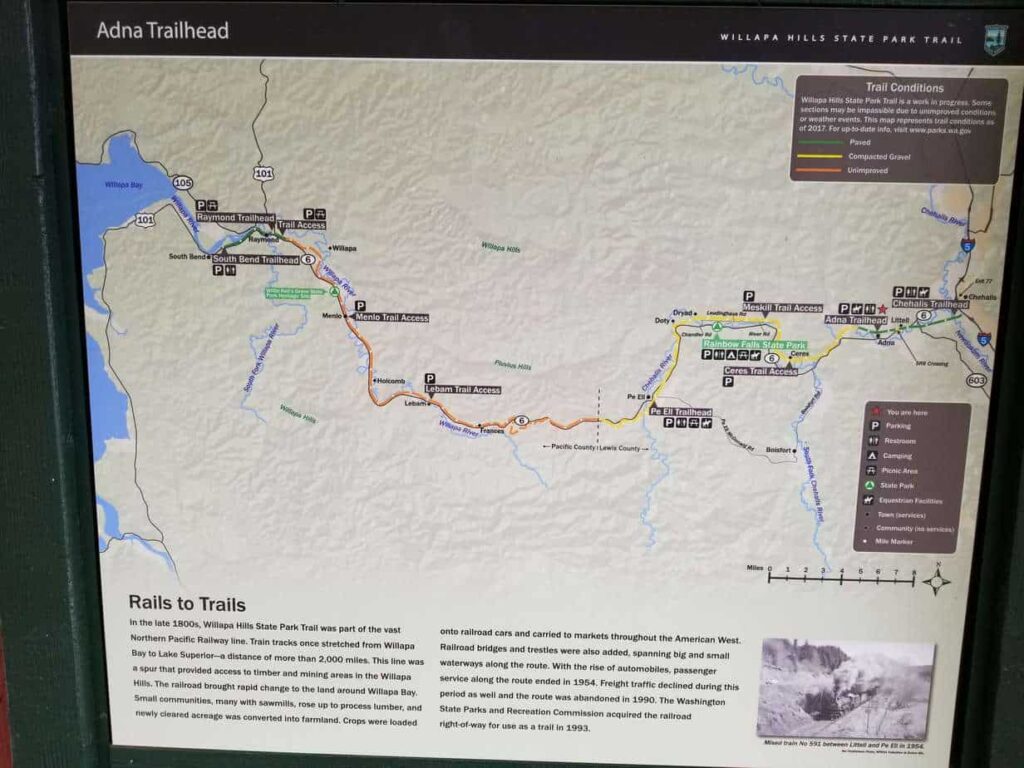 What is the start and endpoint of Willapa Hills trail?
The start point of the Willapa Hills trail is in Chehalis, WA (I-5 exit 77) on Hillburger Road.
The trail also runs through the towns of Adna, Pe Ell, and Raymond, WA.
The endpoint of the Willapa Hills trail is in South Bend, WA.
What is the elevation gain of Willapa Hills Trail?
The Willapa Hills Trail has nearly zero elevation change in the first 20 miles – <5% gentle grade.
In miles 20-40, there are a few steep sections – the steepest inclines are going westbound.
Are there other access points to Willapa Hills trail?
Access points to the Willapa Hills Trail:
Pe Ell – Fourth Ave and Front St
Doty – Meskill Rd
Dryad – Rainbow Falls State Park
West Lewis County – Ceres Hill Road
Adna – Dieckman Rd
What is the surface of Willapa Hills Trail?
The surface of the Willapa Hills Trail varies.
The trail is paved (a 5.5-mile section) from the Chehalis start point.
Developed gravel trail to Pe Ell.
From Pe Ell to Raymond, the rail is unimproved (dirt).
Finally, from Raymond to South Bend (~5-miles), the trail is paved.
Is there parking at Willapa Hills Trail?
There is limited parking at the Willapa Hills Trail start point in Chehalis unless you have a Washington State Discover Pass.
If you do any outdoor exploring in Washington State, I highly recommend buying this pass.
I can't count the number of times we've arrived at a trailhead and "discovered" we needed the pass to get out of the car.
And often, there aren't pay boxes to buy the pass on-site. It usually requires backtracking to find a place to purchase one.
An annual pass is $30; day passes are $10.
Here's a link to the faqs for the Discover Pass.
Where are the restrooms on Willapa Hills Trail?
There are restrooms at the Chehalis trailhead.
Regular Willapa users say the bathrooms are often locked – plan ahead!
There will be restaurants and some public buildings in Adna, Pe Ell, Raymond, and South Bend. You will have to leave the trail and walk a few blocks to get to these towns.
And, the trail is lush with trees and undergrowth – just sayin'…
On the Willapa Hills Trail – make a day of it
Chehalis is a good choice for breakfast.
Sweet Inspirations and Rib Eye both serve yummy breakfasts, pastries, and lunch.
Shakespeare & Company Used Books is the perfect combo of a used bookstore, coffee, and food.
Here's a fun idea, hop off the trail in Pe Ell and visit the Tin Snug Coffee House; it's only a couple of blocks over on Main Street.
For museums, take a look at:
Chehalis-Centralia Railroad and Museum
Lewis County Historical Museum
Or take a detour off the trail at the little towns of Adna, Pe Ell, and Raymond to see what's up on Main Street USA.
More information
Helpful links
Hiking Trail Resources by State
Others people's experiences on the Willapa Hills Trail
Interested in horseback riding on the trail?
See NW Horse Trails – Willapa Hills Trail post.
PNW Wanderers chronicle their 2-day bicycle tour of the Willapa
We Biked, We Camped, We Toured, We rode the Willapa on this Annual Two-Day Event
Related Guidebooks on Amazon
Other trails in the Pacific Northwest
Latourell Falls Loop Trail, Columbia River Gorge, OR
Dog Mountain Trail, Columbia River Gorge Area, WA
Elk Mountain and Kings Mountain Loop Trail
Silver Star Mountain Trail, Skamania County, Washington
Tillamook Head Traverse Trail, Oregon
Cottage Grove Covered Bridge Trail – Oregon
If you go to Willapa Hills Trail, share a photo with us. Tag us on Instagram @jauntyeverywhere or use #jauntyeveryday.