Backpacking the Blue Glacier Trail, Hoh Rainforest
This summer my family backpacked in the Olympic National Forest for four days on the Blue Glacier trail.
What is the Blue Glacier Trail?
The Blue Glacier Trail is in the Olympic National Parks, Hoh Rainforest. The trail passes through lush rainforest and old-growth forest. The trail ends with a stunning view of the Blue Glacier and Mount Olympus.
It was a wonderful adventure, exploring the beauty of Washington States rainforest. We had long days of hiking, vivid green surroundings and one day of constant drizzly rain.
We were in a rainforest after all.
We hiked along the Hoh River trail up to a glistening glacier.
The trail is the Hoh River trail and the glacier is called the Blue Glacier.
We were blessed to get to see this massive sheet of ice on a clear blue sky day. we even heard the ice cracking and creaking as we ate snacks overlooking the glacier field.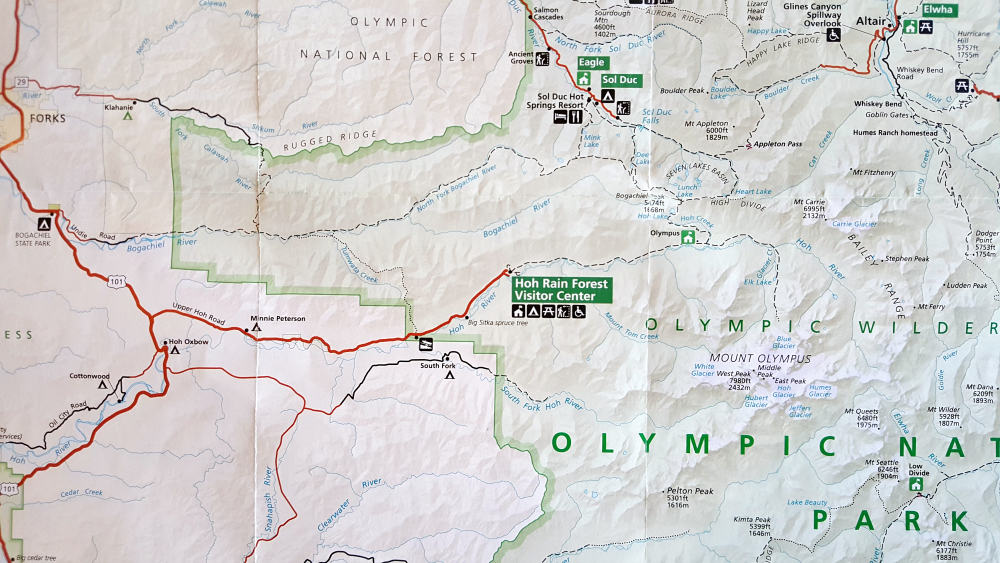 I'd like to share some tips and information about this trail so you can enjoy this trip as well. Its such a beautiful place, it should be shared.
I'll start with some inspiration and reasons you should go.
We took these photos along our four day trip and they don't do justice to the vivid colors and majesty of the mountains and glacier.
Huge old growth cedars dot the forest.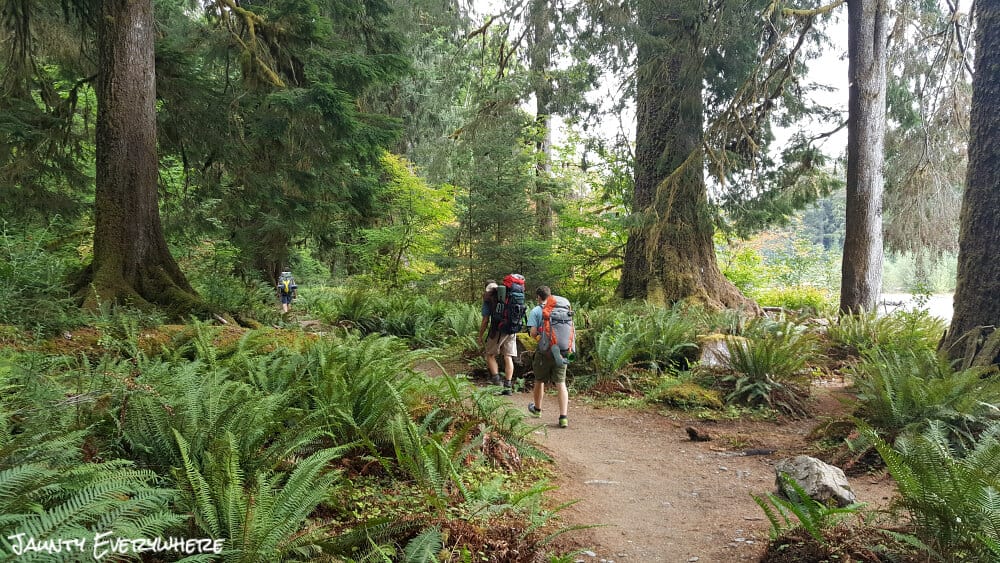 The Glacier spread out before us.
Inspired to go? Good! I thought you might be.
Now that you've seen why you should go, here are some things that will help you plan a trip.
Unfortunately, spontaneously showing up at the trailhead with a day pack isn't always the greatest plan.
Park Passes
To enter the Olympic National Forest, and park for multiple days you will need a National Forest Pass.
You can buy one of these for about $25 at the entrance booth as you enter the park.
An alternative would be the year long pass called the America the Beautiful pass which gets you into all National Forests in the USA for $80. Please note these are all prices based on our trip in the fall of 2017, these might have changed since then.
Getting Permits
To backpack in the Hoh Rain Forest you are required to have permits for everyone in your party.
These can be purchased at the ranger station at the trailhead to the Hoh River trail (this is the trailhead for the Blue Glacier trail).
When we bought ours we had to pay with cash or check. I think that issue has since been fixed and they now take cards. It's always a good idea to have cash just in case.
The fee as of Fall of 2017 is $8 per person, per day. You will receive a tag from the ranger with all your information written on it. Keep this tag with you at all times, readily available. Rangers who "audit" the trail will need to see your permit to verify that you are allowed to camp.
Another thing to keep in mind before getting permits from the ranger station is that there are a couple camps along the trail where you will have to "reserve" a spot. These camps have limited spots, hence, the reservation requirement.
Keep this in mind as you plan, or decide whether to camp here, because it adds some urgency to the hike that you may or may not want in your trip.
Bear Cans
At the time of this post bear cans were not required in the Blue Glacier area.
However, there are bear wires to hang your food bags from during the nights when you camp.
Its also a good idea to leave them hanging anytime camp is unoccupied. Little critters love pack food, or even shoes as I discovered one morning when I got up to find nibbles in the fabric of my hiking shoes.
Bringing a drawstring bag or dry bag to hang all your food stuffs in is super helpful for unloading and loading packs everyday and "storing" your food on the bear wires.
Planning the nights camps
There are multiple camps along the Hoh River to Blue Glacier trail. Here is a photo of the camps and the mileage between each camp.
These include the following:
0.9 Mile- 1 site
1.4 Mile- 1 site
Mt. Tom Creek- 4 sites
3.3 Mile- 1 sites
5 Mile Island- 8 sites
Happy Four- 4 sites
7.8 Mile- 1 site
Olympus Guard Station- 9 sites
Lewis Meadows- 5 sites
12.4 Mile- 2 sites
13 Mile- 3 sites
Martin Creek- 6 sites
Elk Lake- 6 sites (Need to reserve a spot at the trailhead Ranger Station)
Glacier Meadows- 17 sites (Need to reserve a spot at the trailhead Ranger Station)
Everything is pretty well marked as far as where campgrounds are. As you hike keep an eye out for these markers to keep track of where you are.
Preparing to hike in a rain forest
Keep in mind as you choose your gear and your clothing that this is a rain forest.
We had one day where is rained, or thickly drizzled the entire day.
We all had rain gear so it was actually enjoyable getting to hike in the true habitat of the rain forest.
However, once we got to camp I was freezing and it took hours to get warm. To top that off I had a meal planned that took about 20 minutes to cook. In those conditions this was 20 minutes too long.
Tip: Keep a dry outfit, like SmartWool leggings and a shirt, or other warm and insulating garments in a ziploc bag for situations like this. Having something dry and warm to change into can be nice after a day of hiking, especially when you're soaked!
Also, always, always, get out of wet clothes before bed. As the temperature outside drops, the water on your clothes gets colder and will suck heat away from your body. This makes sleeping miserable.
Backpacking meals
As I said before, I packed a meal that took too long to prepare in the circumstances we found ourselves in. When packing your meals try to plan things that are ready to eat, or that are really quick to make.
For lunches we did quick things that we could snack on, since we knew we would be hiking through lunch time.
For convenience we brought foil pouches of salmon, tuna or chicken to eat on almond crackers. Also, snack bars and jerky are quick lunch options.
More about the Blue Glacier trail
One of our favorite things on this trail, other than getting to see a magnificent glacier, is the monkey ladder!
This ladder is a steep rope and wood rung step ladder that scales down a steep shale embankment into a gully. The ladder is located a little over a mile away from Glacier Meadows.
This ladder definitely had my heart pumping as I slowly climbed down. Its an exhilarating experience!
Dad, Drew and Jordan were down in a jiffy, I am more cautious.
Other Resources
For more information about the Hoh River trail, Olympic National Forest, and the Blue Glacier specifically, here are a few resources:
Hoh River Trail: National Park Service website
Olympic National Forest: National Forest info
The Blue Glacier Trail: Washington Trail Association website
Thanks for reading! I hope you find this helpful and get a chance to explore the beautiful Olympic National Forest.
If you go let us know in the comments. We would love to see a photo of your trip.
Travel well!
And here's a slug…..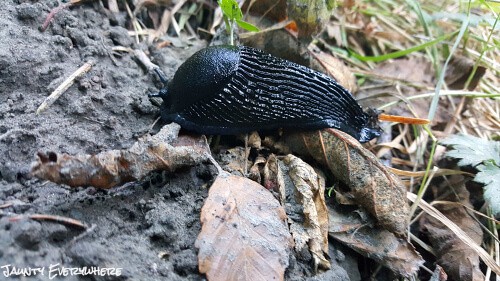 Other hikes in the Pacific Northwest
Latourell Falls Loop Trail, Columbia River Gorge, OR
Dog Mountain Trail, Columbia River Gorge Area, WA
Elk Mountain and Kings Mountain Loop Trail
Silver Star Mountain Trail, Skamania County, Washington
Tillamook Head Traverse Trail, Oregon
Cottage Grove Covered Bridge Trail – Oregon
Interested in doing a different backpacking trip in Washington?
Backpacking to Enchanted Valley with a day hike to Anderson Glacier