Brittany is a little bit backpack.
Brittany, Cheri, and Bailey have been traveling together for a lifetime.
When the kids were young, we camped all over, mostly to save money.
Brittany went on her first hike at six weeks old. She doesn't remember riding in a baby sling, but she does remember all the backpacking trips her dad took the family on over the years.
Hiking stuck. Today she loves nothing more than exploring the wilds with her husband, Jordan.
In fact, Brittany is more comfortable boondocking in their station wagon than she is staying at a resort. You'll find her posts on hiking, backpacking, and all things outdoors just the ticket to get you out and about.
As an Enneagram Six Brittany knows how to plan for every situation!
Besides her work on Jaunty Everywhere, Brittany is a fiber artist.
You can find her at TextileIndie.com and on her YouTube channel Textile Indie.
Brittany's travel bucket lists
Places to go
USA- Visit Every State
Alabama, Alaska, Arizona, Arkansas, California, Colorado, Connecticut, Delaware, Florida, Georgia, Hawaii, Idaho, Illinois, Indiana, Iowa, Kansas, Kentucky, Louisiana, Maine, Maryland, Massachusetts, Michigan, Minnesota, Mississippi, Missouri, Montana, Nebraska, Nevada, New Hampshire, New Jersey, New Mexico, New York, North Carolina, North Dakota, Ohio, Oklahoma, Oregon, Pennsylvania, Rhode Island, South Carolina, South Dakota, Tennessee, Texas, Utah, Vermont, Virginia, Washington, West Virginia, Wisconsin, Wyoming
North America
Canada- Alberta, Vancouver Island, Victoria, Nova Scotia, Prince Edward Island and see the house that L.M. Montgomery wrote about in the Anne of Green Gables books
Europe
United Kingdom, Ireland, Wales, Scotland, Germany, France, Switzerland, Slovakia, Italy, Iceland, Greece, Croatia, Hungary, Poland, Romania, Lithuania, Albania, Spain, Cyprus, Austria, Turkey
Oceania
Australia, New Zealand
Central / South America
Mexico, Argentina, Columbia, Brazil, Chile, Peru, Venezuela, Ecuador
Asia
Thailand, India, Indonesia, Singapore
Middle East
Israel, Lebanon
Africa
Morocco, Egypt, South Africa, Lesotho

Adventures to have
Hikes and backpacking
Hike the Napali Coast
Hike in Glacier National Park
Backpack around the British Cotswolds
Backpack in Patagonia, watch the sunrise
Backpack the Wonderland Trail around Mt Rainier
Backpack the Appalachian Trail, USA
Hike around Yosemite National Park
Backpack the Pacific Crest Trail
Backpack in the Himalayan Mountains

Physical adventures and challenges
Kayak the Napali Coast
Learn to surf and go surfing somewhere tropical
Go snow backpacking for more than one night
Climb Pikes Peak
Live in a foreign country for a year
Experiences to have
Places to sleep
Stay in a hostel in Europe
Stay in a treehouse
In a hotel with an in-room Jacuzzi tub
Spend the night at a Hobbit hole replica
At a historic bed and breakfast
On a boat
In my car on a road trip
In a castle
On a train
Activities to do
Go on a glass-bottom boat tour on a tropical reef
Visit the Sydney Opera House
Go to a masquerade ball
Learn to swing dance
Speak Spanish
Take a sleeper train ride across Europe
Take a wilderness survival course
Performances and Shows
Go to a professional opera
Go to a Broadway show at the Broadway Theatre in NY
See a show at Shakespeare's Globe Theatre
Attend a Cape Breton music performance in Cape Breton
Experience a Civil War (USA) reenactment
Go to a music jam in Ireland at a pub
History nerd stuff
Explore Plymouth Plantation
See the Statue of Liberty
Find my family name in the records at Ellis Island
Visit the Louvre
Victoria and Albert Museum
Black Forest Open Air Museum in Germany
Rome – visit the Roman ruins and historic landmarks
See Stonehenge
Visit the Battlefields of the US Civil War
Road trip along the Lewis and Clark trail
Textile artist things
Learn an ethnic craft in each country I visit
Spend a week taking classes at a folk art school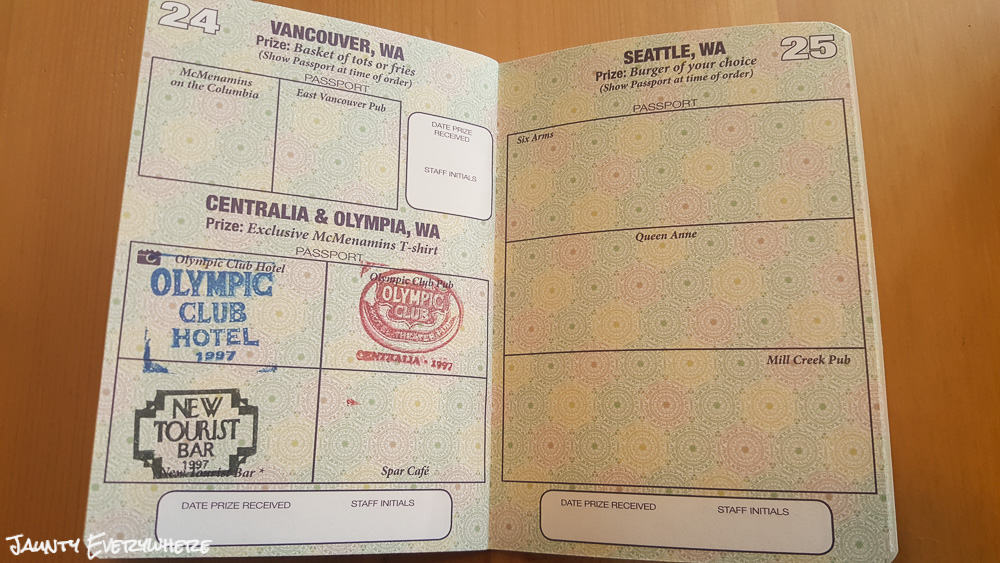 Food and entertainment
Learn to cook a dish from every country or region I visit
Visit all McMenamins and complete the Passport
Eat a bug of some sort
Try real Italian food from a restaurant in Italy
Go to a pastry shop in France and eat a pastry
Purchase elements for a meal in a European market, like the locals
Try alligator meat
Share a meal with a local family in a foreign country
Go to a fancy multi-course restaurant