The McMenamins empire
In November of 2017, Jordan and Brittany purchased and began the McMenamins passport.
Jody and Cheri began their McMenamins Passports in May 2018.
Let me explain what this is.
McMenamins is a series of breweries, restaurants, quirky movie theaters, hotels, wineries, and coffee houses that dot the Pacific Northwest. Most of these locations are in historic buildings that have a unique history.
There are 58 locations, and the number is growing! For instance, one movie theater we visited in Portland inhabited a domed building that used to be part of a fairground. In another location, a hotel still offers quaint rooms to guests where a renowned thief got caught and imprisoned in Alcatraz back in the '30s.
The McMenamins Passport
Now, the passport.
This is so much fun, like a scavenger hunt for adults!
The passport is filled with spaces to collect stamps at each location. Some locations have multiple stamps highlighting different details.
The Kennedy School in Portland has seven places on the property to visit and get a stamp. The Kennedy School has a restaurant, movie theater, hotel, and a couple of bars. Each spot earns you a different symbol.
There is a start-up fee for the passport (visit the McMenamins passport page here).
Along the way, as you collect stamps, you win prizes for each series.
Sometimes this is a McMenamin's souvenir, and sometimes it's a free appetizer.
Once the passport is complete, there's a grand prize. The prizes are subject to change, so check out the official website to get the most up-to-date info.
History
I love historical stories and getting to hear about the lives of people and times past.
Because the McMenamins locations are primarily in historic buildings, there is a rich historical background.
So lots of fantastic stories.
For example, founded during Prohibition, the Centralia McMenamins Olympic Club began as an underground bar scene and "gentleman's club.
Oregon McMenamins
McMenamins Black Rabbit Restaurant at Edgefield, Troutdale
Black Rabbit is one of the fancier McMenamin restaurants. Dinner runs $20-45 and includes surf and turf options, as well as vegetarian dishes.
We stopped at the Black Rabbit for appetizers and a cider. We ordered a plate of cheese and meats served with olives and pickled veggies that were delightful.
East 19th Street Cafe, Eugene
East 19th, with its game room, patio, and proximity to the University of Oregon, makes it a popular spot for college students. The restaurant serves pub-style food (average dinner $15).
The restaurant is family-friendly; a little child noise will go unnoticed in the general hubbub.
I love the original artwork from McMenamin's league of artists.
The game room includes a pool table, shuffleboard, darts, and pinball machines.
North Bank McMenamins, Eugene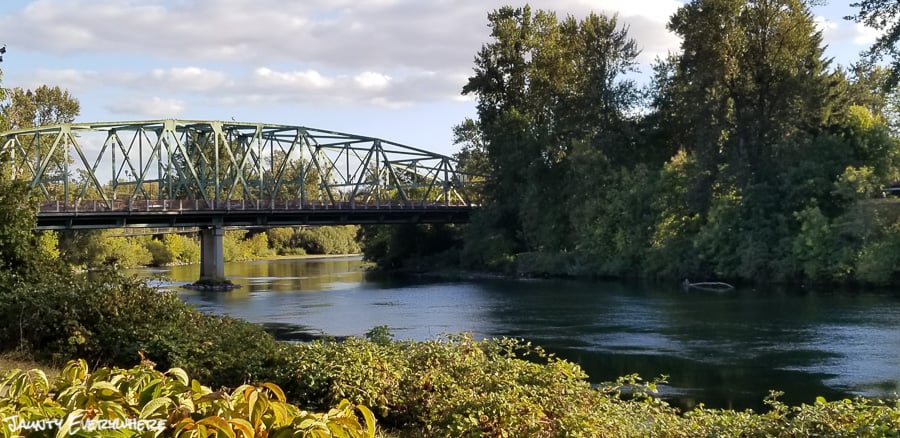 The best reason to come to North Bank is to sit by the Willamette River and watch the sunset. It's a good setting for a date night, the location is beautiful, and the food is delicious.
It's also an excellent place to watch the game – any game – all the time. So let the hostess know why you're there – for romance or NFL when you check-in.
The restaurant has a Tiki Hut theme, and the menu reflects it with Kalua Pork, Ahi Steak, and other tropical-inspired dishes. You will also find the traditional McMenamins pub fare.
High Street Brewery and Cafe, Eugene
Located in a 1900's era house, High Street has a very homey vibe, with cozy rooms and seating tucked in nooks and crannies.
The backyard is a leafy beer garden with a fire pit. Folks were smoking out back the day we visited – this may be a plus or minus for you.
There's also seating on the front porch.
The walls, covered with historic playbills and original artwork – many from the Crystal Ballroom in Portland, Oregon – are a feast of color.
Roseburg Station Pub and Brewery, Roseburg
The brewhouse is located in a 1912 Southern Pacific Railroad depot.
Every McMenamins is unique in some way, but some are extra special because of the historic property. Roseburg is one of those locations.
The building has vaulted ceilings and museum-quality paintings and photos from Roseburg's history.
There is patio seating, and if you are "lucky," a train will whiz by to make the experience more authentic – but hold on to your hats…and napkins.
The passport activity is a photo scavenger hunt. You will take a self-guided tour of the restaurant with a sheet describing the significance of each piece of art. It's best to come during happy hour when the restaurant is quiet. It's a little awkward to wander around looking at the walls if the restaurant's packed with diners.
Washington McMenamins
McMenamins on the Columbia, Vancouver
McMenamins on the Columbia has a neighborhood pub feel, with a front-row seat to the Columbia River.
If you haven't tried the McMenamins cajun tots, we highly recommend them. Every McMenamins pub offers a few menu items unique to that location. But you will never go wrong ordering one of the burgers and a side of cajun tots – with a cold beer or cider, of course.