{Treasure Hunts While Traveling: Beginners Guide to Geocaching}
How to get started geocaching basics
What geocaching means
How to get started geocaching.
Geocaching is a real-life treasure hunt, great for adults and kids. Plug in coordinates into a GPS or use a Geocaching phone app and hit the road. Geocaches are found over most of the globe tucked away in unique spots. Created by individuals and added to the geocaching world database for others to enjoy.
Geocaching definition
ge·o·cach·ing

/ˈjēōˌkaSHiNG/

noun: geocaching

1. the recreational activity of hunting for and finding a hidden object by means of GPS coordinates posted on a website.

Websters Dictionary
What are geocaches?
A geocache is a hidden item; a set of coordinates is the key to finding it. Typically the cache is a container of some sort with a logbook and odd trinkets to trade with something you bring. Sometimes a cache is labeled 'mini cache' or 'micro cache.' These are typically caches that only contain a mini logbook.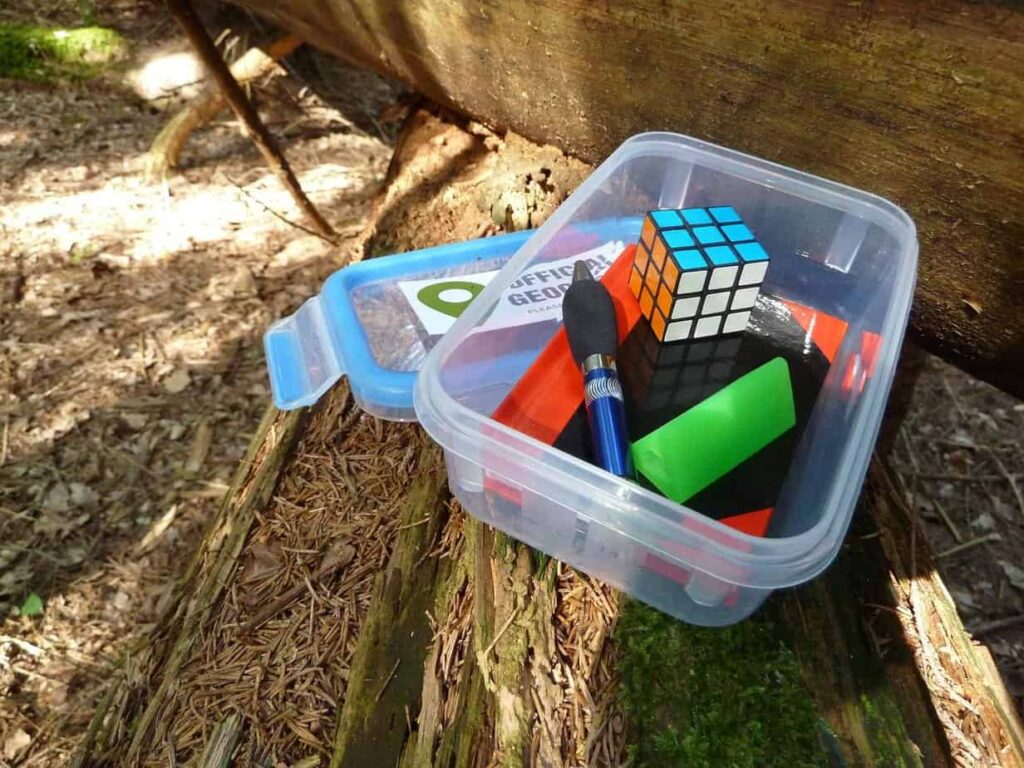 How geocaching works
First, go to the geocaching website on your computer or phone and search for geocaches in your area, or the area you will be visiting.
Download the geocaching app. For more on what app to download, see the section 'Which geocaching app is best.'
Find a cache somewhere that you want to visit or explore.
Geocaching containers
Geocaching containers are often ammo cans, waterproof plastic containers, or other sealable, waterproof containers.
Geocaching etiquette
Don't leave garbage trinkets- We've been to several caches that looked like people were using them as their garbage bins. Broken glass, rocks, torn-up notepads, partially used pencils. This is not as fun to find. Leave something nice.
Sign in to the logbook
Put the cache back in the spot you found it so the next person can find it.
Log in and leave feedback in the app you are using. Let the owner of the cache know you found it as well as other geocachers, so they know the cache is still active.
Geocaching how to hide
Hide the geocache where you initially found it. The coordinates set by the geocache owner are meant for the specific location they put it in. If you move it or hide it somewhere else, others won't be able to find it.
Why go geocaching
Geocaching is a great way to get outdoors, explore a new area, and have fun with travel companions, family, and friends. Often geocaching will take you to places you wouldn't necessarily go on your own whether that's a local park, a nature trail, or on the outskirts of a neighborhood.
Why geocaching is fun
It's a treasure hunt for adults!
If you've ever had the secret desire to go digging for buried treasure, then geocaching is a great way to explore that 'Treasure Island' passion.
It's also a great team-building activity as family and friends work together to travel to the geocache location and then discover its hiding place.
How to get started geocaching
Find a geocache in your area using a Geocaching app. Drive to the starting location.
Begin searching for the Geocache by following the directions connected to the cache on the app. When you arrive at the Geocache spot start to search for the cache.
Keep your eyes peeled, especially if it is a microcache, as these can be very small. If you are having trouble finding the cache there is typically a clue that you can use to get a bit closer to the exact location.
Once you've found the cache open it up and add your name to the logbook that's inside. Trade trinkets if you want to do so. Re-hide the cache back in the same location as you found it.
Once you're done you can leave a comment for the cache owner letting them know you found the cache. This will inform them their cache is still intact as well as letting others know this cache is current.
Geocaching what do you find
A geocache is a waterproof container containing a logbook, trinkets, pen or pencil. The container is often an Ammo can, a plastic tub or some other waterproof container.
Geocaching what is in the box
Logbook
Trinkets
Pencil or pen
What are geocaching souvenirs
If a geocache is large enough, they often contain trinkets that you can trade. Bring a collection of trinkets to add to the geocache and trade for others in the cache.
Geocaching what to leave
Good trinkets for geocaching are small items that are inexpensive, but not garbage.
The items don't have to be expensive. And don't leave food or candy, it goes bad and can attract animals.
Here are a few ideas:
Small figurines- animals, bugs, people…
Toy cars
Keychains
Rubber balls
Stickers
Pencils
Crayons
Mini deck of cards
Sunglasses
Jewelry
Mini puzzle
Dice
Legos
Coins
Temporary tattoos
Chalk
Shells
Buttons
Carabiners
Geocaching what to bring
GPS or phone with Geocaching app
Good walking shoes
Something small to trade
Day pack (if its a longer hike, see How to Pack a Day Pack)
Snacks (Snacks for the Trail)
Geocaching equipment
The things you will need to go geocaching are the same as for a day hike with the addition of a gps device, or geocaching phone app, and treasures to trade at the cache (though this is not necessary).
See our post The Prepared Hikers Checklist for all the equipment to prepare for a successful day hike/geocaching experience.
Geocaching map
Geocaching how to find coordinates
In the Geocaching app the coordinates are included in the navigation option. If you click on the navigation button it will direct you towards the correct location.
Who can geocache?
Can you do geocaching?
If you have access to a smartphone or a GPS device, an online geocaching website to find caches near you, and the ability to meander through parks, nature trails, neighborhoods, and other outdoor spots, then you can geocache.
A little preparation and exploring may be required to figure out how to be successful. Learning to use a GPS device or run the Geocaching app on your phone before going out will make the trip go smoothly and ensure you find the cache.
Geocaching for kids
Geocaching is a great activity to do with kids. Get the kids involved by showing them the map on your phone or GPS and give them an opportunity to lead. Finding treasure is thrilling when you're little and Geocaching is a great way to get kiddos playing outside and focusing on an activity.
Run Wild My Child has a great post on how to geocache with kids.
Geocaching with your phone
It is possible to use your phone as a GPS device when Geocaching. There are several apps available that you can download and easily use to search for local caches. These also function as GPS to help you find the cache.
Which geocaching app is best
The app that we use is Geocaching by Groundspeak Inc. In this app you can search for Geocaches around the world, log that you've done a cache, find the description, and other information about specific caches, navigate to the cache and see photos and get hints to further help you find a cache if you get stuck.
Can you do geocaching with an iphone
Yes, you can geocache with an iPhone. Download a geocaching app and you can get started.
Geocaching apps are free
The Geocaching app by Groundspeak Inc is free to use.
Geocaching how to make a cache
If you are interested in creating your own cache see the information on Geocaching.com for more information:
Fun facts
When is International Geocaching Day
August 15th is International Geocaching Day.
Resources
Geocaching Official Blog has a list of five tips for beginner geocachers, along with lots of other helpful geocaching information.
For more on adding outdoor activities to your travels see:
What You Need to Know to Go Snowshoeing on Vacation (Even as a First Timer)
Have you been Geocaching on vacation, where? Was it a good experience, and would you do it again?