Fogo De Chao
930 SW 6th Ave. Portland, OR 97204
(503) 241-0900
What they serve
This is a buffet style per plate approx $56.00.
Fogo De Chao is a Brazilian steakhouse.
A buffet style spread of salads, bread, cheeses, sliced artisan meats, olives, fruits, and veggies invites you to fill your plate with deliciousness.
When you return to your table you will have received a coaster- one side is red and the other is green.
When you are ready for a piece of meat flip your coaster to the green side facing up.
As dinner progresses you will notice a steady stream of the "gaucho chefs" coming in and out of the kitchen with large skewers of meat. They will show up beside your table and offer what they have on their skewer. If it is a piece you want to try they will shave off a bit, or give you a piece of the meat, using a large gaucho knife.
Don't forget to turn your coaster to the red side up if you want a chance to enjoy between meat servings.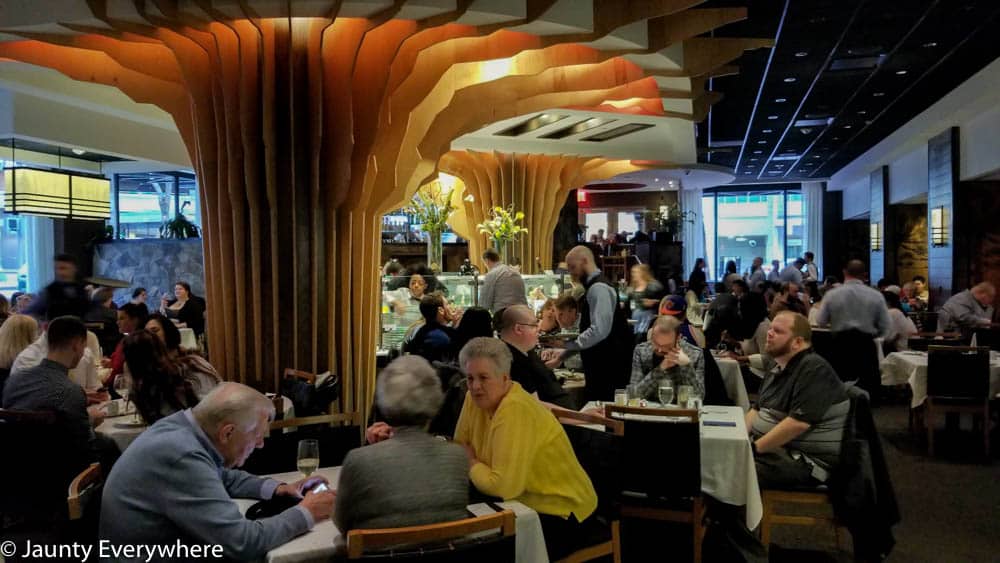 3 adjectives
Experience. The novelty of the gaucho chefs serving a variety of deliciously cooked meats intermittently throughout dinner is an intriguing experience. Gives the chance to try a little bit of many different cuts of meat, and flavors.
Fancy. From the fabric tablecloth and napkins to the professional gaucho chefs and servers, this is a great location for a dress-up dinner.
Meat. The highlight at Fogo De Chao is the meat. The kitchen is fully windowed for diners to have a glimpse of the rotisserie ovens where rows of skewered meat sizzle to tasty perfection.

Favorites and specialties
Everything was wonderful, it was hard to pick a favorite. There was a piece of beef wrapped in bacon that we enjoyed, and a drumstick marinated in cognac that had a rich flavor.
Other interesting tidbits
Gaucho is a Spanish word used for the skilled horsemen or "cowboys" of many South American countries. A gaucho chef, like those preparing and serving meat at Fogo De Chao, are representing the culinary tradition of gaucho's preparing their food over a fire.

How we found it
We learned about this restaurant during Portland Dining Month. This is an event in Portland, Oregon, held during the month of March. Over one hundred restaurants in Portland join in an event that offers a special opportunity to try new restaurants for a three-course dinner for $33 per plate.
Other restaurants in Portland, Oregon that we like
Mediterranean Exploration
Behind the Museum, Portland, OR