The secret to eating well on hikes
Going for a day hike with friends and family is a wonderful way to get outside, enjoy some exercise and fresh air, and explore the gloriously diverse world.
As you can probably tell I love hiking, backpacking and spending time being outside.
So today I want to share one of my soft spots when it comes to hiking and spontaneity.
BE PREPARED FOR IT.
I have a reputation for packing too much food when we travel. I don't like running out the door empty-handed.
And there's a good reason for it – I don't like getting home tired, grumpy and HUNGRY!
I mean, spontaneous is fantastic, but if you end up on a 10-mile hike without food, someone is bound to get irritable.
To avoid this, I try to keep a stash of day hike friendly, packable snacks and meals on hand to grab when we throw together a day hike.
I tend to make things from scratch if I have time, or whip up a big batch and freeze extras. But there is no shame in buying pre-made snacks from the grocery store.
To help you out, I've created a list of some of our favorite day hiking foods to take on your next outing.
Some links below are referral links, meaning, at no extra cost to you, we earn a commission if you make a purchase. Thank you for supporting Jaunty Everywhere in this way! See our full disclosure statement.
If you are interested in finding a backpack for your day hike, check out these options on Amazon.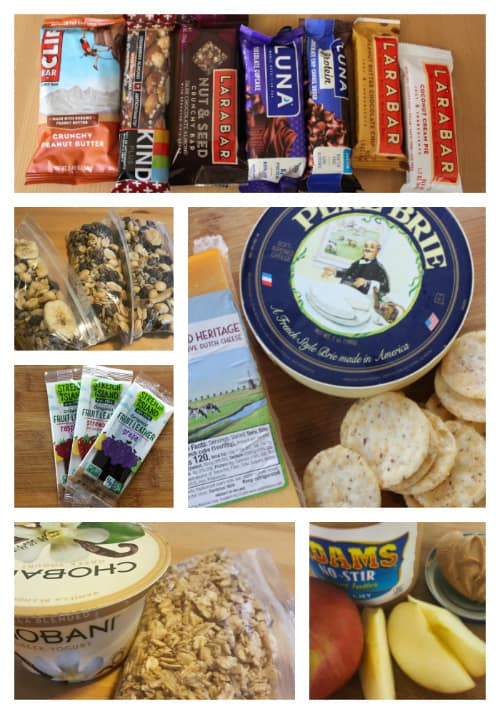 Food to pack on a day hike
Homemade day hiking trail food:
Chocolate nut and seed bars (these tend to get a bit melty, so they are best for cool-weather hikes). This recipe is from Half Baked Harvest

Mock Lara bars: I found this recipe at Traditional Cooking School by Gnowfglins.

This is a high energy bar that's slightly sweet and can be filled with whatever you want



No-bake peanut butter balls from Gimme Some Oven

Here is a fun list of recipes for snack bars and no-bake energy balls from Backpacker.com
Easy prep day hiking trail food:
Boiled eggs – peeled

Trail Mix – get different types of nuts, dried fruits, chocolates, and other goodies at your local grocery store, and combine them to make a personalized trail mix

PB&J sandwich

Bagels and cream cheese, or bagel sandwiches travel well

Vegetable sticks and homemade dip (hummus, guacamole, ranch dip)
Store-bought day hiking trail food:
Jerky: I prefer getting jerky from our local farmers market. It's grass-fed and has a satisfying fresh taste. Packages from the grocery store are adequate as well

Crackers and sliced cheese

Munchies – pork rinds, seaweed, chips. Combine with dip for a more nutritional punch

Apples and nut butter

Carrots or other vegetables and ranch dressing or hummus. Wholly guacamole makes individual packets

Meat and cheese roll-ups – deli meat wrapped around a cheese stick

Pickles

Energy bars- there are so many to choose from! Munk Pack, Cliff bars, Kind bars, Luna bars, Larabars, etc…

Fruit leathers
Snickers bar

Granola and a cup of yogurt

Cereal to munch on

Trail mix
Cheese and meat wrap – in a tortilla

Foil packed tuna or chicken

Chicken (deli or rotisserie) and cheese in a tortilla wrap

Condiment packets – mayo, mustard, taco sauce, or soy sauce

Pepperoni sticks
Energy gels (After trying one during a marathon I never want to eat another, but they work for some people)
Hot day hiking trail food ideas:
On some hiking excursions, it might be nice to have a hot meal. This is especially satisfying if your hiking in snow or cold weather. To accomplish this you'll need a backpacking stove, fuel, and a pot.
Soup – you can also prepare soup ahead and keep it in a thermos

Cup of Noodles
Instant rice and chicken from a foil pouch

Cocoa or coffee (use instant packets, such as Starbucks Via)
Water on a day hike
I hope bringing water is an obvious thing. We like to hike with water in our day packs in bladders or water bottles.
Also, having an extra bottle of water in the car is a good stand by in case you end up extra thirsty when you've finished hiking.
From experience, we've learned that packing more water than you think you need is a good idea. It's vital to stay hydrated.
Once on a group hike, a couple of folks got heat exhaustion, even though we were hiking on snow! Our water supply was almost gone. It's an important reminder that being prepared, even over-prepared, is worth the time.
I would love to hear some of your favorite trail snacks. Leave a comment below.
More hiking posts:
Ketogenic Hiking Snacks: Fueled by Fat
Hiking Snacks from Thrive Market
From Couch to Trail: 7 Activities to Help You Start Hiking