Steak started it all.
I mentioned in the intro post that steak was my first iron cooking test – I thought it was a bit of a practical joke on my husband.
But, the meal turned out so good I started to have respect for this humble little appliance.
Every trip I come up with a new idea – a way to make healthy "home-cooked" food with minimal gear.
Try making an iron steak, and I think you will be hooked too.
If you're looking for a great cooler for your trips, check out these top sellers on Amazon…
Best Selling Coolers
Series:
Cooking with a Hotel Iron – Intro
Cooking with a Hotel Iron – Grilled Sandwiches
Cooking with a Hotel Iron – Chicken and Pork
Cooking with a Hotel Iron – Tuna Steak
What you need
Steak
Salt and pepper
Foil
A side dish (for ideas see Cooking with a Hotel Iron)
Let's talk about cut
Ultra-thin
Very thin cuts are perfect for people that want well-done steak.
These cuts cook through very quickly.
A thin cut can also be sliced into strips and tossed with a southwest bag salad. Yum!
Ultra thick
A thick cut, like a filet mignon, would be delicious. But since these premium cuts are expensive, I like to save them for the comfort and control of my home kitchen and grill.
Medium thick
The perfect cut for the hotel iron is a medium thickness, like the piece of steak in the photo above. About 1/2 to 3/4 of an inch thick.
The important thing is a uniform, flat cut. Bones or dips and valleys will prevent the iron from coming in contact with the meat, and you will have uneven cooking.
A moderately priced top round steak is perfect.
Let's talk about seasoning
Ideal
Buy your steak before leaving home, put it in a baggie with your favorite marinade and freeze.
It will thaw slowly in the cooler, and by the time you cook it, the meat will be well flavored.
Second best
Season the steak liberally with salt and pepper 2-3 hours before mealtime and let it rest.
Will work
Season with salt and pepper right before cooking and remind yourself that you're doing something innovative and unique!
It will taste great – the way sandwiches taste better at the park.
How to cook steak on an iron
Step 1: Season steak on both sides with salt and pepper.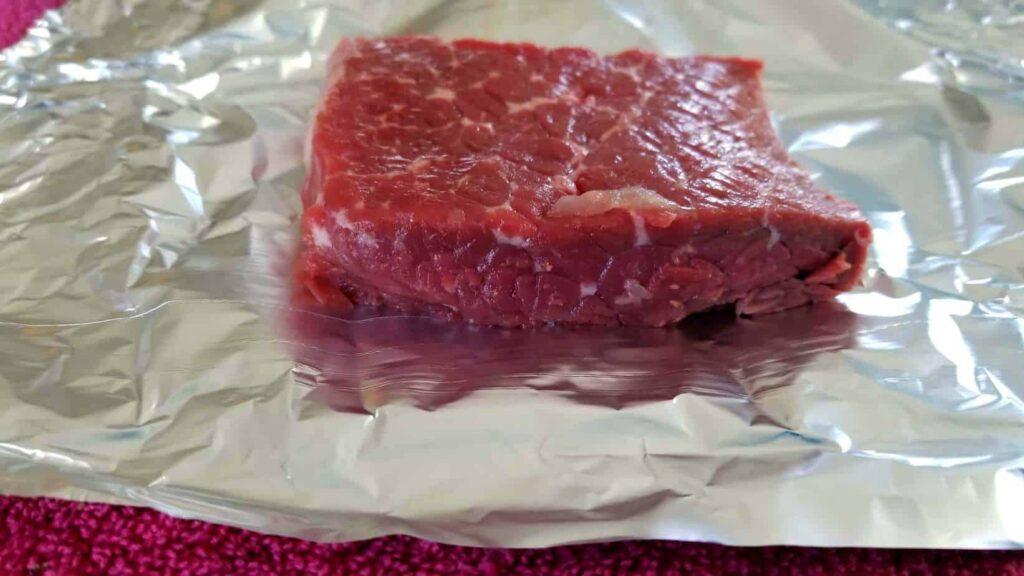 Step 2: Make a foil "folder." Keep the sides loosely open to allow steam to escape. If the foil is sealed the steak will not get a tasty sear, it will boil in its juices.
Step 3: Heat the iron on the hottest setting, and set it on the steak.
Step 4: Cook the first side for 2-5 minutes depending on how rare you like it.
Note: Do not leave the iron unattended.
Step 5: Open the foil and flip the steak over, cook the other side.
You can keep peeking under the foil to check how fast it's cooking. Just add minutes until you're happy with the amount of pink in the middle.
Step 6: Plate
As you can see, we like our steak rare. The iron will cook the steak to through the middle if that's how you want it.
Add a salad and a sweet potato, and you have a delicious meal. You can find more side dish ideas in the introduction post.