How to Go on Your First Trip
Backpacking tips for beginners.
Getting into backpacking can be overwhelming. There's all the gear to get ahold of, the planning to do, and details to remember. There are life-saving issues like water sources to consider. It's quite involved.
Have no fear! Planning a backpacking trip can be overwhelming, but it can also be fun and build up anticipation for a cool outdoor adventure.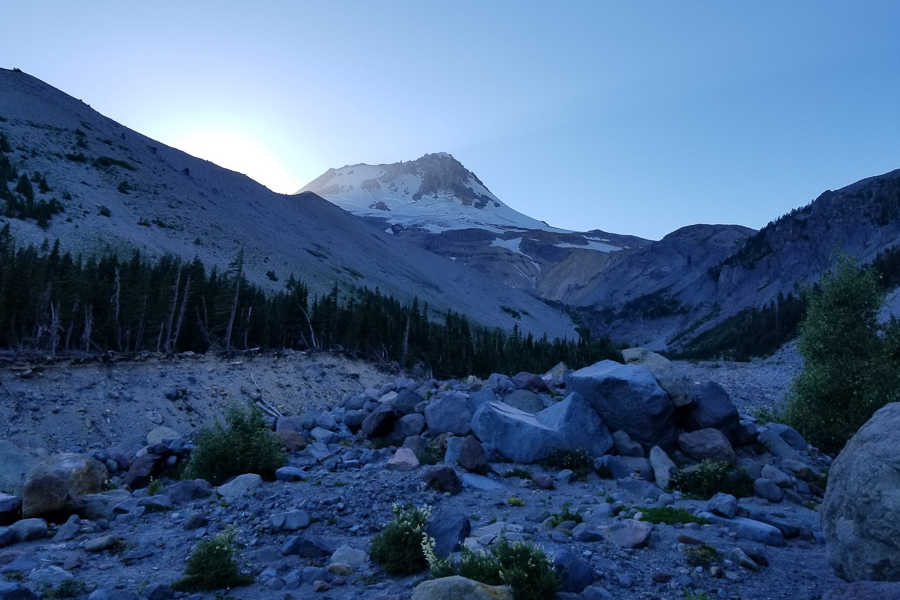 Backpacking tips for beginners
Planning a trip
The following aspects of a backpacking trip are elements to consider when planning an excursion. Consider each of these factors and prepare for them to have a successful experience.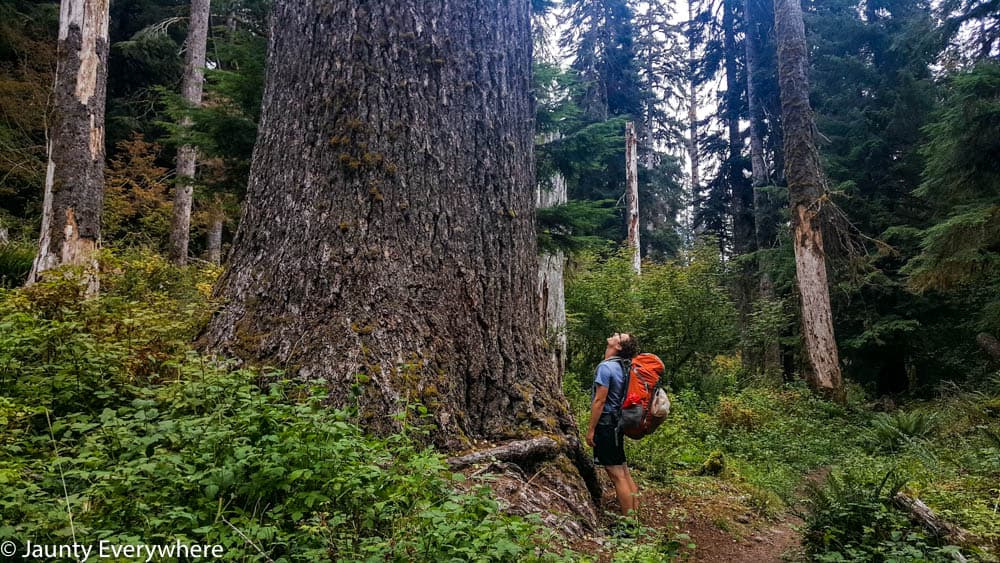 Trail
Find a place to backpack.
The location is the first step in trip planning – besides gathering gear.
There are many resources for finding a backpacking location – books, websites, blogs, and word of mouth.
Do some digging to come up with a spot you would be interested in hiking.
Endpoint
The trail you choose will depend on several factors, which we will go over. One of these is where the endpoint is, or what type of hike it is.
An out-and-back trail is one that starts and ends at the same point and follows the same trail IN as it does coming OUT. So you will be retracing your steps to return to your starting location.
A loop trail starts and ends at the same spot, but the trail goes out and loops around so that you don't cover the same ground twice.
A start and end trail (through hike) is where the starting location is different than the ending location. This can mean leaving a car at the end location and then driving back to the start. Or getting picked up and dropped off.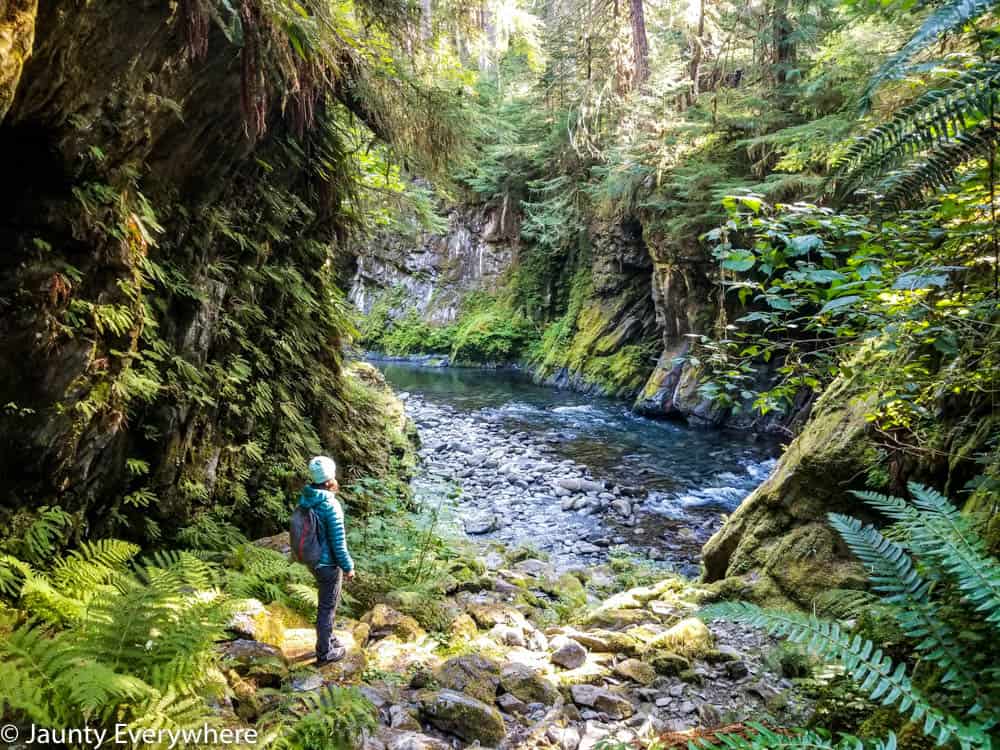 Length
The length of the trail is always a critical factor in choosing a backpacking trail.
If you have two nights to spend backpacking, you probably don't want to pick a two hundred mile hike.
The length you can do is the distance you are comfortable walking – while carrying all your necessities.
Also, consider that hiking with a pack up and down hills is much different than walking city blocks. If you are new to hiking and backpacking, consider taking a stroll around your neighborhood with a full pack and some sort of GPS tracker to get an idea of what a mile feels like.
Elevation gain
Elevation is typically measured in feet (in the USA). It is the distance you will be traveling upwards on an incline.
If the mileage you are covering is short, but the elevation is high, then you will primarily be climbing up hills.
If the mileage is long and the elevation is high, then you may be gradually climbing, or alternating going up and down.
Many hikes have an elevation profile map that shows the length of the hike and where in the hike the trail ascends or descends.
Best seasons
The best season to backpack will depend on where you will be hiking. Many trails have suggested seasons. Check reviews to get an idea of what others have done.
Jordan and I tend to be all season backpackers. Our favorite seasons are spring and summer because it requires less gear, and the weather is a lot more comfortable. But we also go out in the fall and winter, which are exceptionally rainy in our corner of the world. Sometimes we'll look for a snowy spot near a mountain and snowshoe backpack in.
When starting, I would highly recommend going in a season of good weather. The better your first experience, the more often you'll want to go. Then once you're hooked, you'll be able to try out other seasons and weather combos that take a little more consideration in planning and preparation to withstand the weather.
Days to backpack the trail
Consider the mileage and the elevation when planning out overnight hikes. Planning for a reasonable amount of distance with a fair amount of elevation gain will make each day more enjoyable.
This can mean that the trail of your choosing is a one night trip, or a
five-night trip.
Often time is limited for trips to an overnighter on a weekend or a long weekend holiday or even taking a few vacation days. If time is your most significant limiting factor, than decide on the number of days and nights you have available and then consider how many miles you could accomplish in a day. Estimating the mileage this way can help to narrow the trail options.
Packing weight suggestion
Typically it's wise to pack no more than 20% of your body weight. This is more than many people are used to carrying, especially while hiking on a trail. On the first trip, you will want to overpack because of the unknown possibilities. Once you go out a few times, you'll be able to narrow down how much stuff and food you need.
It took me a few trips to realize I only needed one pair of pants and maybe a pair of shorts. Also, I discovered if I had wool leggings, a wool shirt, wool socks, and a hat I was much more comfortable in the evenings and during the night because wool is a natural insulating fiber.
Some choices are personal preference; others take common sense. For instance, don't pack canned food. There are many other lighter food options for the trail.
See The Ultimate Guide to Backpacking Food.
Level of difficulty
A moderate day hike can be a difficult backpacking trip if carrying a heavy pack.
Regulate the weight of your pack. Be conservative. The weights going to directly impact your enjoyment on the trail.
Keep in mind the difficulty.
Again, as mentioned above, often a difficult hike is either high in mileage, or high in elevation, or both.
Water sources
Is there a water source near the trail you will be hiking?
If you are hiking along a river, is there access to the river? Or are you hiking above it?
Consider the water options for the hike you want to do. If there are no water sources, or none that you can access, you will need to pack in all your water for drinking, and cooking meals.
Bathrooms
Some trails have pit toilets at the trailhead and near the camp areas.
Other trails require you to learn to "use the woods."
This is a fact-of-life to embrace as a backpacker.
There are a few key things to note when mentally preparing for this necessity:
Pack a trowel, biodegradable toilet paper in a plastic zipper bag, hand sanitizer, and an extra opaque plastic bag.
When your hiking along and nature calls, find yourself a secluded spot (hopefully without crushing every plant along the way).
Dig yourself a hole (with the trowel you packed). Squatting is easier if you can find a stump or tree to use for support.
Use biodegradable toilet paper or preferably pack out your used toilet paper in a zippered bag. Yeah, it's gross, but it's better to leave-no-trace.
Once you've done your business, fill in the hole.
Where to camp?
More established backpacking trails have camping spots well defined. For less frequented locations, you may need to find your piece of flat ground to call home.
The Park Ranger Service manages many of the popular trails. Camping spots are designated and often require reservations.
Water crossings
Hiking along water sometimes means water crossings. If you stick to popular trails, they typically have wooden bridges built over these waterways for easy access.
Just something to keep in mind when planning a trip…
Passes / permits
Many places require some sort of parking pass or park pass to stay in a location. Research the trail you are visiting for specifics to that trail.
Permits are another thing to keep in mind. Some hikes require a permit for the trail to moderate the number of hikers in an area.
Research the trail you want to do to find permitting and pass information.
Notes on gear
Backpack
The backpack is the most important piece of equipment to consider when gathering gear. Not only will this be carrying your gear, but you will be wearing it for an extended period of time.
If you have not walked around with a loaded backpack on your back in a while, then consider the fact that an ill-fitting pack will hurt your shoulders, make your back ache, put added weight on your feet causing them to tire quicker, and most likely make the whole experience miserable.
Find a backpack that has the correct torso length. Backpacking packs often are sized by height because the torso length of the person wearing the backpack determines where the chest and waist straps should hit.
This brings up the next factor to identify: make sure the pack has a chest strap that buckles across the chest and a waist belt that securely sits right on the hips. These straps will take weight off the shoulders and put weight on the hips where its more comfortable to carry and in the chest where you can press into it as you hike forward.
Food
We have a post on backpacking food that will help you learn how to prepare and plan the menu for your trip:
The Ultimate Guide to Backpacking Food.
Food storage
When settling in for the night, make sure to store all your food in a waterproof stuff sack away from camp. If animals are attracted to the smell, they will come looking for it, and it's best if it's not in your tent with you.
Hanging your food bag in a tree is a simple solution.
In places with a bear population, you will need to pack a bear can.
Bear cans
A bear can is a heavy-duty plastic container with a lid that screws on and "locks." Place all your food items and other items that have a scent – toothpaste, deodorant, chapstick, everything except hand sanitizer into the container. Screw the lid onto the container and tuck it beside a rock, tree, or bush about one hundred yards from any camp spot.
Bear wires
A bear wire is another food storage option in bear country. Some maintained trails have these already established by Park Rangers.
A wire is draped between trees or poles.
Backpackers attach a bag of foodstuff to the wire and hoist it into the air above a bear's reach. For this method of food storage, it is good to bring a cloth drawstring bag that will hold all of your food items. You can use a garbage or grocery bag, but they tear.
Hanging food
If you are on a trail that doesn't require bear cans and doesn't have a bear wire, it is still a good idea to hang your food. Other critters will be attracted to it. Again, it is a good idea to have a cloth drawstring bag to put your food in.
Find a tall tree with branches ten feet up or higher.
Use a piece of rope and toss one end over the highest branch you can reach. Catching a branch can take several tries. Adding something substantial, like a piece of wood or a rock tied to the end of the rope, will help. Get the rope over the branch so that you can reach the end. You will have ahold of both ends at this point.
Tie your food bag to one end of the rope and then hoist it into the air. Lift it eight feet or more off the ground. Wrap the other end of the rope around the tree and tie it off to hold it in place – use a knot you can easily untie later.
Water
You will need water for drinking, water to cook with (especially if using dried or freeze-dried meals), and water for personal hygiene (like teeth brushing, washing your face – whatever level of cleanliness you want to keep up).
If you have access to water on the trail, then you can filter water from that source once you arrive and restock water supplies along your trip.
If not, you will need to pack all your water with you. You will need 2 liters of water per person per day. Estimate how much you will need for cooking by adding all the meal amounts together and adding a liter or so extra for emergencies. This will be a good amount to start with, though having extra is even better. You never know what circumstances you could run into.
Water filters
Pumps
A water pump filters water through a hose from the water source (a river or stream), this goes into a filter, cleaned and comes out a hose directly into your water container.
Squeeze filters
A squeeze filter has a cylindrical filter that attaches to a plastic pouch. Fill the pouch with water and then attach the pouch to the filter. Squeeze the water from the pouch into the container.
Steri-pens
A steri pen does not filter anything out of the water; it only kills the bacteria in the water. It uses a UV tip to zap the organisms. To use a steri-pen, fill a bottle with water. Place the steri-pen end into the water and turn it on. Usually, these have a timer. The process takes a few minutes per bottle.
Carrying water
There are many different options for carrying water when backpacking. Here are a few suggestions:
Water bladders
A water bladder is an excellent choice for packing water because they are light and easy to refill with a water filter. Water bladders typically come with a hose that connects to the bladder for drinking.
Pack the water bladder in your backpack. Usually, there is a pocket against your back to slide it into. The hose can thread through a special hole made for water bladder hoses in the corner of the backpack and then attach to the strap of the backpack.
Its a super convenient way to get a drink while hiking, you don't even have to stop if you don't want to.
Water bottles
A water bottle is another option when hiking. If you are doing multiple day trips, pack several bottles to sustain you throughout the day. This will also keep you from needing to stop for water as often. However, these can add weight if you are using reusable water bottles.
Water pouches
A water pouch has a squeeze cap to drink from and a heavy-duty plastic body that you can fill with water. It's compact when empty, lightweight, and easy to refill with a water filter.
Be careful how you store these pouches between uses and where you pack them. It would be a bummer to puncture your water container.
Clothing
Smart wool.
Wool.
I love using wool-based clothing when hitting the trail because it is insulating, and it doesn't capture odors. So I don't start to stink after a few hours of hiking.
There are lots of options on the market, and it ultimately comes down to personal preference.
I would highly suggest starting with a SmartWool base layer- especially as your evening and bedtime wear.
Another game-changer for me in the evenings and cold weather has been a down jacket and waterproof shell jacket combination. The down jacket insulates and keeps me comfortably warm, and the rain jacket layers on top to keep me dry. I would highly suggest considering doing something similar if you will be backpacking in a wet area or milder climate.
Women's Smartwool base layers.
Women's Columbia rain jacket.
Mens Columbia rain jacket.
Gathering the gear
Having all the "right" gear is not necessary to start. If you don't have all the perfect clothes, cooking gear, or tent situation, don't let that stop you from going backpacking. Work with what you can to start out and slowly add to your gear as you go.
It's taken us years to figure out what we should typically pack, what luxury items we really want and what we can leave behind, and how to make
cold-weather bearable.
The trail does the training. Of course, going without gear is not suggested either; there is some preparation required.
See our gear suggestions on Jaunty Everywhere's Backpacking Gear List.
Use our gear guide above and our printable Backpacking Trip Packing List for a checklist of things to begin to add to your gear supply.
What you will need
Sign up to get your printable Backpacking Trip Packing List.
Preparing for a backpacking trip
Physically
Backpacking is physically taxing; you will be asking a lot from your body. Doing a little training will help you enjoy your trip more.
Spend a few weeks before your trip walking, doing some strength exercises, and stretching to prepare your body to carry your backpack and cover the distance you'll be hiking.
Training for a backpacking trip
Walking is one of the best ways to train for a backpacking trip. Time on your feet will prepare them to carry you and be more prepared to heft your pack.
Backpacking does take strength, and the more conditioned you are, the better you will enjoy yourself.
Footsteps of a Dreamer- How to Get in Shape for Hiking
Emotionally
Not only is backpacking physically challenging, but it is also emotionally challenging. You are putting yourself in a situation away from creature comforts, away from a warm bed, easy access to food, and most likely….gasp….the internet!
Knowing ahead of time that things aren't always going to be comfortable helps to prepare for challenges and dips in mood. If you know discomforts are coming it's easier to identify the root cause rather than blaming yourself or others.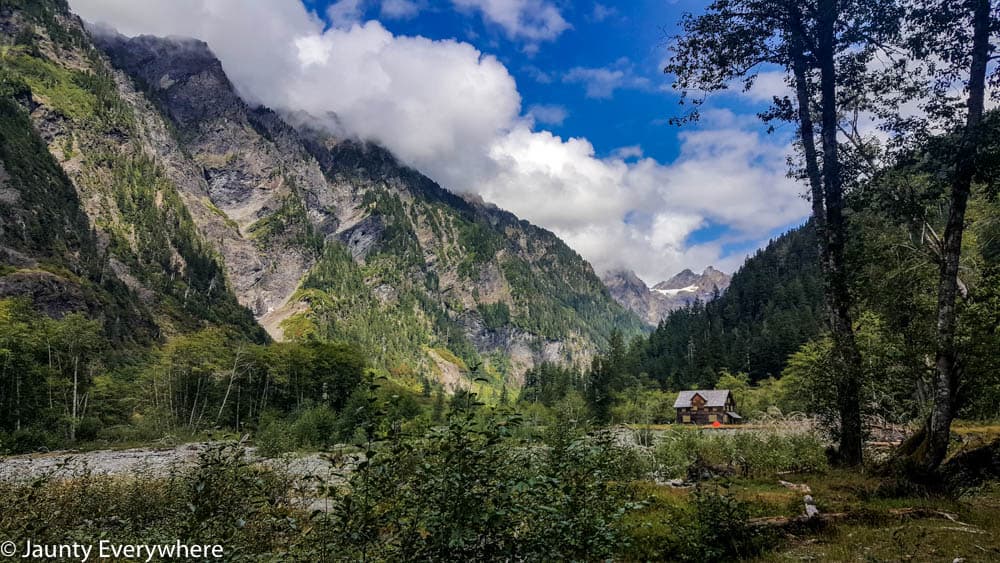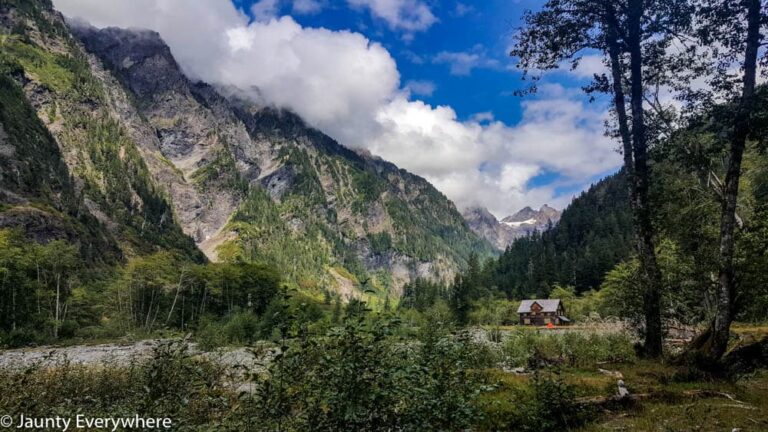 Mentally
Going out into the great outdoors is a wonderful experience with lots of benefits physically, emotionally, and mentally.
The great outdoors also poses many threats to be aware of.
There are animals out there
It's their home, not ours. Be respectful of a creature's space if you do come across something small and furry or feathered.
There are many suggestions on how to conduct yourself if you see a bear, cougar, rattlesnake, and any other potentially dangerous animals.
If you don't know what animals are typical in the area, you will be backpacking do some research on what is common in that area and how to handle coming across those animals.
Hiker Track- What to Do If You See a Mountain Lion
Nature is not predictable
Depending on where you are hiking or what time of year it is, you could be hiking along under a beautiful blue sky only to be trudging through accumulating puddles in a torrential downpour ten minutes later.
Or having a great time hiking in a desert during the day, in a comfortable heat, and then shivering through a cold, long night.
The weather forecast is simply a prediction (with some science to back it). The day could unfold as expected, but preparing that it might not allows you to better prepare for all weather and stay safe.
Packing for a backpacking trip
Load your pack
Packing a backpack is a practice in strategy. The goal is to position weight in the center, closer to your back. Bulkier items will fit in the bottom of the pack, and other items get tucked in.
Backpack sections:
Bottom- Bulkier items
The things you will need to make camp like bedding, tent.
Core- Heavier objects
Food, cooking gear, water bladders…
Top
The top is a great area to put items like a rain jacket, sweater, or other bulkier items you may want while hiking.
Pouches and pockets
Best for items you will want on the trail or need easy access to.
Loops and straps
For items that won't fit into the interior of your bag or that are too long (like hiking poles).
Print a map
Have a paper map tucked in a clear plastic zip bag for reference. It will be helpful for orientation of where you are if you come across any unexpected or unmarked trails.
Pack the map in an easy to access pocket, so you don't have to take your pack off to get to it.
Going on the trip
Let someone know
Before hitting the trail, let someone that cares about you know where you'll be hiking and when you plan to be back. This is a great safety precaution if something happens on the trail. Someone is expecting you to call and say you're back safe, and if they don't hear from you, they can send in help.
Be strategic though; it would be embarrassing to have search and rescue come out because you're a few hours slower than you estimated you'd be.
Hit the trail
Arrive at your destination, and load up your pack.
Hit the trail, and you're off!
Sometimes analyzing how to make a trip work and gathering all the gear is the hardest part. Once you're on the trail, all you have to do is hike, and enjoy the scenery.
Building connections and making memories
There is the planning side of a backpacking trip, the process of backpacking and there is also a relational aspect to backpacking.
Fatigue and energy levels
Being on the trail, sleeping in a tent, cooking food over a little propane stove, being cold, or too hot, tired, hurting feet, sore shoulders, heavy pack…
Backpacking purposely puts us in an uncomfortable situation.
And sometimes that results in short tempers, frustration, fatigue, or negativity.
As a kid, I remember being tired and how that overwhelmed all other feelings. For an eleven-year-old, that makes sense.
Now I have the experience to know fatigue and discomfort are part of the deal.
It's good to remember that as we get tired, everyone in our party will be a little less functional. Being mentally prepared for this seems to make it easier to overcome.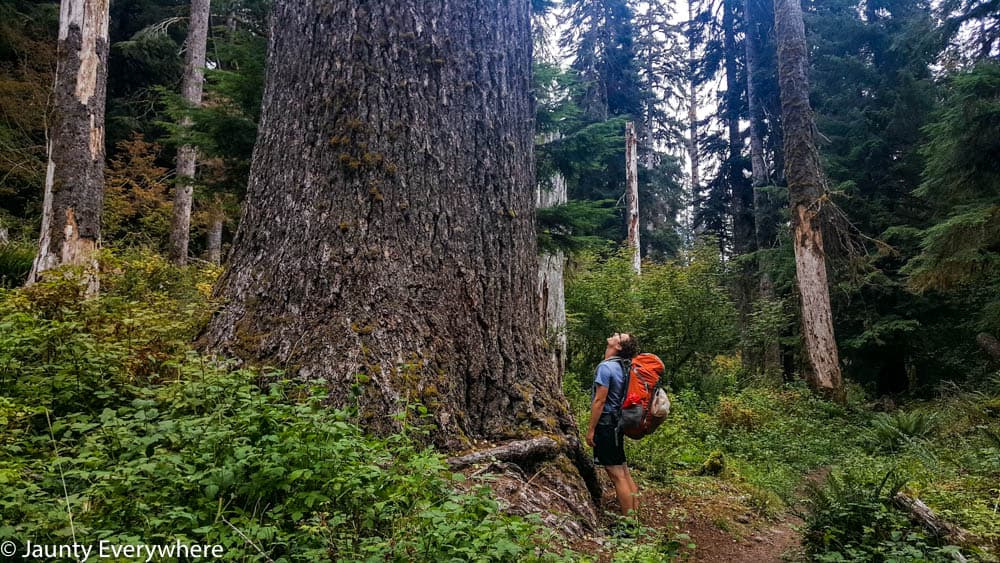 Communication
It takes a lot of patience and communication to work together.
As a family, we've had many years of practice. When making trips like this with friends, it can be a learn-as-you-go kind of situation.
How long does everyone last before you're hiking along in silence?
What is everyone's recharge style?
Do they need alone time or group activity time?
Taking breaks
Do you need to take lots of short breaks to keep everyone energized and positive, or are longer stretches better?
Taking photos
Taking photos along the trail is such a great activity to do as a group.
Capture scenery, but also take selfies and group shots, or ask other hikers to snap a shot for you. Having these memories to look back on, like any other vacation, can give you a good laugh or remind you of a special moment.
Meal Time
As a family, we like to end the day with a good, comforting, hot meal. Some backpackers see food as fuel. We're somewhere closer to "backpacking gourmet." This is a great time to cook, unwind, and talk about the day's travels.
The Ultimate Guide to Backpacking Food.
Recovering from a backpacking trip
Stretch it out
Take a few minutes to stretch when you arrive back to your vehicle. Stretching can soothe sore muscles and help reduce future soreness.
Unpacking and storing gear
Clean everything
Wash out water bladders and hang to dry out. Send some soapy water or water and vinegar through the bladder hose to clean it out as well.
Air out sleeping bags by unzipping them and spreading them out for a few hours. This reduces future mustiness.
Unpack the tent and lay it out to dry or clean with a cloth and some water if it got especially dirty.
Wash all cooking gear before storing it.
Unpack all food from backpacks. Don't store food in backpacks. Rodents can quickly chew through the cloth, ruining your expensive gear.
Store excess backpacking food in airtight containers or ziplock bags. Another option is to store things in the freezer.
Wash and dry clothing.
Clean boots or wash them in the washing machine; air dry.
Storing gear
We keep our gear accessible so that we can pack quickly if we decide to go on a weekend backpacking trip on a whim. Most of what we use is stored in large plastic tubs, like Rubbermaid tubs. This is convenient and keeps things organized.
Sleeping bags, especially down or microfiber bags, should be stored loosely in a large stuff sack or a plastic tub. The restriction of the packing stuff sack causes the microfiber or down to work less effectively because it isn't able to fluff out.
We keep a bin of backpack-able food and non-perishable snacks in a Rubbermaid tub along with our other gear.
Before packing things away, make sure its thoroughly dry so that it doesn't mildew in storage.
More information
Helpful links
How to Build your own First Aid Kit
The Ultimate Guide to Backpacking Food
If you go on a backpacking trip, share a photo with us. Tag us on Instagram @jauntyeverywhere or use #jauntyeveryday.
Instagram