Calling all romantics, birders, flower lovers, boaters, and art aficionados.
La Conner is the darling of the Skagit Valley.
It's the perfect couples getaway and a great place for a sister's weekend.
La Conner is an ideal home base for anyone planning to take in the epic bird migration or the Skagit Valley Tulip Festival.
Where is La Conner, Washington?
Distance from…
Portland, Oregon 240 miles
Vancouver, BC, Canada 87 miles
Tacoma, WA 101 miles
Sea-Tac Airport 81 miles
Seattle, WA 67 miles
Bellingham, WA 40 miles
Mt. Vernon, WA 9 miles
Why visit La Conner?
La Conner is a charming historic village on the banks of the picturesque Swinomish Channel. Located between Seattle and Vancouver, BC, La Conner is an ideal romantic weekend getaway. A tiny town with a big character, visitors to La Conner, enjoy walkability and beautiful views, not to mention the famous Skagit Valley Tulip Festival in the Spring.
First stop
La Conner Visitor Information Center
Stop by the La Conner Visitor Center and get the scoop on what's happening in town.
We love to make a bee-line to any visitor/tourist information center as early in a visit as possible. You can find out about current events, get advice about timing, and glean tips to make the most of your trip.
Outdoors and Nature in La Conner
Parks
Pioneer Park
Looking for a short hike?
Check out Pioneer Park in downtown La Conner and explore the 3/4-miles of wooded trails.
If you want to extend your exploration further, take the stairs down to La Conner Waterfront Park (see listing below).
Pioneer Park provides access to Rainbow Bridge, which you can cross on foot into the Swinomish Reservation. The tribe welcomes visitors to explore the native garden park and read information about the history of the tribe.
La Conner Waterfront Park
Right on the bank of the Swinomish Channel – and underneath Rainbow Bridge, Waterfront Park is a must-stop.
Take a picnic and watch the boat traffic on the channel. Be sure to check out the artful playground fashioned from sculptures.
Dirty Biter Park
Dirty Biter is a tiny park on First Street dedicated to a local dog. This is a park for loyal dog fans – a statue and interpretive sign in the park tell the story of "Dirty Biter."
John Hammer Memorial Park
John Hammer Park is on Moore St. It's a great little park with a wonderful playground.
Bayview State Park
Nearby Bayview State Park is a good option for camping or spending a day outdoors.
The campground offers typical sites, as well as cabins.
Sitting on Padilla Bay, you can swim, boat, paddle, and fish.
Right next door is the Padilla Bay Nature Preserve (see listing below).
Trails
Padilla Bay Naitonal Estuarine Reserach Reserve
Come and see 8000 acres of Pacific Coast nature.
The Breazeale Interpretive Center is open Wednesday – Saturday from 10-4 p.m. It's worth planning your trip to take advantage of the exhibits.
Trails and overlooks through the reserve allow visitors to spy native flora and fauna.
Take advantage of the classes for children and adults.
Sign up for the Salish Sea Kids email list.
For homeschoolers, or anyone highly interested in the reserve, check out the teacher curriculum guides.
Estuary Trail – Padilla Bay
On the edge of the Skagit River Delta, this easy, flat 4.4-mile trail is a must for bird lovers.
Bald eagles, blue herons, snowy owls, and many other birds call this home. You may even see an otter or seal.
Binoculars are recommended.
Craft Island Hike
Hikers, if you like to come back muddy, Craft Island is your hike.
A meandering 2-mile walk takes you to the flat rocky outcropping known as Craft Island.
It's a muddy, marshy walk, so be forewarned.
At high tide, it's possible to swim in the warm (for the Pacific Northwest) water.
Safety Note: Do not head straight for the island across the marshland. Ditches and holes are a hazard to hikers. Instead, take the meandering route across the dike.
There's no potable water or toilet facilities on the island.
Museums in La Conner
Skagit County Historical Museum
Explore local history: First Peoples, Early industry, transportation, and the life of the settlers.
This is a well-curated and beautiful museum.
Find rotating featured exhibits and educational programs.
For young people, the museum offers a handful of locally themed puzzles.
And finally, don't miss the museum's list (maps available at the museum) of 67 Heritage Barns – good photo ops!
Skagit County Historical Museum
Museum of Northwest Art
A delightful art museum; I really enjoyed a few quiet hours here.
The museum offers a diversity of art – both diversity of people represented and a diversity of art media.
The museum store is also worth a stop for one-of-a-kind northwest art and gifts.
Pacific Northwest Quilt and Fiber Arts Museum
I'm a big fan.
First of all, the museum is housed in the Gaches Mansion – an 1891 Victorian-style home, beautifully preserved. This is a perfect pairing if you have a historic home/architecture buff and a quilt lover in your group.
Besides the permanent collection, exhibits rotate often. There's usually a wonderful mix of themed quilts (birds, flowers, homes), a representation of a historical era in fiber arts, or a specific type of fiber media on display.
A schedule of select classes can be found here.
Information on the Gaches Mansion.
Pacific Northwest Quilt and Fiber Arts Museum
Magnus Anderson Log Home
A walk-by historical marker, more than a museum, the Magnus Log Home (est. 1869) is across from the Chamber of Commerce and just up the street from the Gaches Mansion.
It's worth a look. Children interested in the "olden days" will get a kick out of seeing a pioneer cabin up close and personal.
If you're lucky, the door will be open, and you can look inside.
Here's a little history on Magnus Anderson.
Fire Service Museum
The town volunteer fire department maintains a museum on 1st Street.
The exhibit features historic firefighting apparatus, photos, artifacts, and letters from pioneer Skagit Valley.
The museum doesn't seem to have set hours, most of the exhibit is visible through the window, and you can stop by on your tour of La Conner's First Street.
Historic/Walking tours in La Conner
Self-guided walking tour
This wonderful self-guided tour – via PDF – is packed with information.
A short history of La Conner puts the town in perspective.
Start with the downtown tour, which includes 27 historical sights and buildings.
If you want more historical sightings, move through the entire list – approximately 160 locations!
La Conner's sculpture exhibit
La Conner is a very artsy town.
The sculpture tour showcases 23 pieces – some are even for sale.
Channel Passage – waterfront walkway
The picturesque waterfront walk is a must-see. Bring your camera.
Tour La Conner by mosying up (or down) 1st Street and then returning along the waterfront walkway.
We enjoy spending a late afternoon exploring the shops and then walking back along the waterfront as businesses close up for the day.
Channel Passage – waterfront walkway
Entertainment in La Conner
Gilkey Square Sundays in Summer
La Conner Live hosts Sunday afternoon music from 1-4 p.m. in Gilkey Square.
Picnic tables are available, first-come, first-serve.
Skagit Kid Insider has the best event calendar (whether you have kids or not) – check it out for up-to-date happenings in town and the surrounding county.
Gilkey Square Sundays in Summer
Lincoln Theatre
In nearby Mount Vernon, you'll find the 1926 vaudeville and silent movie theatre. It now hosts live and screen performances.
A wide variety of music groups and entertainers perform at the Lincoln. You can also take in a MET opera live (on-screen) and catch indie and art films.
Sports in La Conner
Tulip Pedal Bike Ride
Join biking enthusiasts for the annual Tulip Pedal.
Choose from the 20, 40, or 60-mile routes through the Skagit Valley.
The ride takes place during the height of the Skagit Valley Tulip Festival. Thousands of acres of blooming bulbs add to the already picturesque scenery.
Kayak Goat Island
A popular 6-mile paddle to nearby Goat Island.
Want an idea of what to expect? Check out American Expeditioners' blog post on their personal experience:
Note: At this moment, there aren't any kayak rentals or tours up and paddling out of La Conner. During the high-season pop-up outfitters and tour operators often put out a shingle. Do an online search, or ask at the visitors center for suggestions.
Shopping in La Conner
Take a walk along Morris Street toward the water and along First Street for the La Conner village experience. The many interesting shops, eateries, and museums congregate on these two main streets.
The list below is a sampling of our favorites.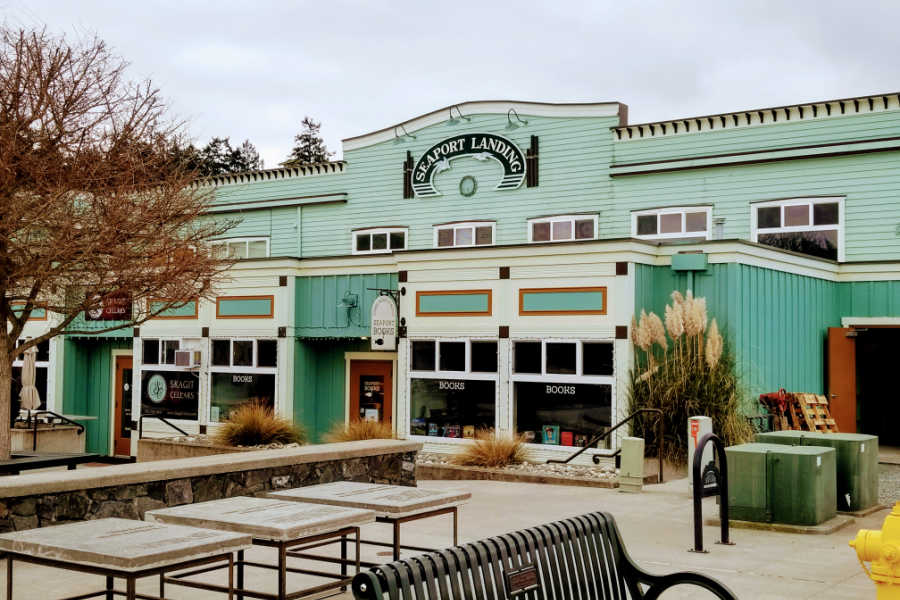 La Conner Seaport Books
A cozy indie bookstore right on the water. Seaport Books specializes in Pacific Northwest titles.
Bunnies By the Bay
For unique baby gifts, shop Bunnies By the Bay.
If you love to purchase products with a backstory, definitely check out Bunnies.
Our Hareytale – The Story of Bunnies By the Bay
Hutch Studios – where all the magic happens.
And, take a look at their blog for sweet and inspiring articles on whole-heart parenting.
Handmade La Conner
Skincare, household products, and pet care are all lovingly made.
Unfortunately, Handmade is temporarily closed. Products are available by online order. Keep an eye out; I sure hope they reopen soon.
Jennings Yarn and Needlecrafts
Jennings specializes in natural fibers; wool, cashmere, alpaca, mohair, angora, silk, and cotton.
They also carry supplies for cross stitch and needlepoint.
If you love sheep or know someone who does, Jennings has you covered with sheepy gifts.
Jennings Yarn and Needlecrafts
Latitude – Longitude La Conner
For nautical and beach-inspired home decor, apparel, and gifts, stop at Latitude-Longitude.
They even have an exclusive line of fragrance products that will make you smell like you just stepped off the beach.
Latitude – Longitude La Conner
Nasty Jack's Antiques
Located in the heart of downtown La Conner, Nasty Jacks is a huge 12,000 square foot emporium of treasure to explore.
Like many of the buildings in La Conner, Nasty Jack's is on the historic register and a destination in itself.
Christianson's Nursery
Christianson's is outside of La Conner, in nearby Mt. Vernon.
But, if you're a gardener or armchair lover of gardens, it's a personal mecca of all things planty.
Besides the usual nursery fare, you'll find a beautiful antique and gift shop.
If you fall in love (pun alert), you can even get married on-site.
Scenic drives around La Conner
The Skagit Valley and Northwest Washington have scenery at every turn. Here are a few scenic drives in the general area if you would like to hit the road and explore.
Cascade Loop
At 440 miles, you won't be able to drive the entire loop in a day – maybe you could, but you don't want to. Pick a direction heading northeast or southeast, and explore the towns along the way.
In the northeast direction, Concrete, Marblemount, and Newhalem make a pretty drive. You won't find many restaurants or services in this direction, so be prepared with snacks and a full gas tank.
The southeast section is more populated with the city of Everett and outlying areas.
And of course, if you want to stay overnight, go all the way around and stop in Leavenworth, Chelan, or Winthrop – all destinations worth a visit.
Chuckanut Drive
The scenic Chuckanut Drive begins in Burlington and runs 20-miles into Bellingham.
It's a solid day trip, with dinner in Bellingham, returning via I-5. I don't recommend Chuckanut Drive in the dark.
Sights in La Conner
Rainbow Bridge
Rainbow Bridge connects La Conner to Fidalgo Island.
The bridge is a 1957 deck arch and is considered an icon of La Conner.
Fall season birds – Trumpeter swans, Snow geese (Oct-Apr)
The Skagit Valley has a diverse ecosystem – wetlands, estuaries, marine waters, prairies, and forests – that make it very hospitable for migratory birds.
Many popular events and festivals in the area revolve around bird watching. The Skagit Eagle Festival, for instance, is a month-long celebration in January.
Also, check out the Birds of Winter website for a winter events calendar and details on 20 birding sites in the area.
Swinomish Channel
The Swinomish Channel runs through La Conner.
If you keep your eyes peeled, you may see Great Blue Heron, otters, seals, and other wildlife.
Definitely check out the nature, park, and trail listings at the top of this post for places to get close to nature.
Tugboats
Tugboat enthusiasts (and you know who you are) will enjoy watching the boat traffic on the Swinomish Channel.
Good eats and drinks in La Conner
La Conner coffee and breakfast spots
La Conner Coffee Company
Coffee, Umpqua brand ice cream, and pastries.
La Conner Coffee serves locally roasted Moka Joe Organic and Fair Trade Coffee from nearby Anacortes.
Free wifi.
La Conner Coffee Company
Stompin Grounds Coffee
Stompin Grounds is in a cool building with nice outdoor seating.
Serving a full coffee menu and some eats.
And if you like coffee humor, check out their Facebook page.
Calico Cupboard Cafe and Bakery
Farm to market, made from scratch breakfast and lunch stop.
Choose from a full menu of breakfast, bakery, and lunch items – but be sure to check out the specialty hash on the breakfast menu.
Calico Cupboard Cafe and Bakery
La Conner restaurants
La Conner Pub and Eatery
My favorite place for a casual meal, with a gorgeous view of the water.
There is a full pub menu of burgers, sandwiches, salads, and fish and chips.
Also, see the listing for La Conner Brewing below in the drinks section.
Santo Coyote
A full menu of Mexican classics and a few twists. This is a great place for a group; there are a few large tables. Reservations are accepted.
Santo's serves house-made mole-smothered fries!
Yes, please.
Check out the Taco Tuesday special if you're around on a Tuesday.
Oyster and Thistle Restaurant
Overlooking downtown La Conner, this is it if you want to eat somewhere special.
Regionally inspired cuisine, with a French flair, the Oyster and Thistle make local, sustainable ingredients a priority.
The menu changes with the seasons, but if available, try the NW Seafood Stew or Prawn Puttanesca.
La Conner drinks
Skagit Cellers
Skagit Cellars is a family-owned Mt. Vernon winery with a tasting room in La Conner – right on the waterfront.
Currently, there are 3 whites and 4 reds ranging in price ($23 – $44).
Suggested: Make a reservation (scroll to the bottom of Skagit Cellars' website).
Skagit Crest Vineyard and Winery
Skagit Crest, another family-owned vineyard in nearby Sedro Woolley, operates a tasting room in La Conner on the boardwalk.
Currently, there are 9 whites and roses and 5 reds ($16-$27)
No reservations are needed, but the tasting room is only open Saturdays and Sundays.
Skagit Crest Vineyard and Winery
La Conner Sips
Featuring local wine and beer, Sips is a one-stop tasting experience.
Take a look at the Sips Facebook page for events and updated menu offerings.
Sips hosts music events, painting parties, private functions, and group tastings.
Hellam's Vineyard
Hellams is a wine shop and wine bar.
The interior space is in a restored warehouse with wine charm galore.
But, the thing that makes Hellam's special is the outdoor wine deck (a fancy way of saying patio seating) overlooking the Swinomish Channel. You can kick back and watch the river traffic float by.
Hellam's offers "gourmet nibbles."
Open Wednesday – Sunday.
La Conner Brewing
We love La Conner Brewing. Two of our favorite menu items: brewery tacos and the smocked cheddar artichoke dip. The pizza and burgers are solid too.
In the heart of downtown La Conner, the building has a PNW vibe.
A full menu of pub food, beer, wine, and cider is available daily.
Other eats in La Conner
La Conner Ice Cream Tower
Hmm, why is it called an "ice cream tower"?
Because…
You will find delicious artisan ice cream cones and every other kind of cold treat.
Be aware the shop closes for winter, reopening each March.
Pioneer Market
Pioneer Market is a local grocery store.
Check out the deli if you want to save a little money or create an impromptu picnic.
Pioneer also offers special menu events – fish n' chips, BBQ days, etc. You can see what's happening on their Facebook page.
Pioneer Market – Facebook page
Map of locations mentioned
Plan a Trip to Washington:
Check out our complete guide to planning your next trip to Washington State.